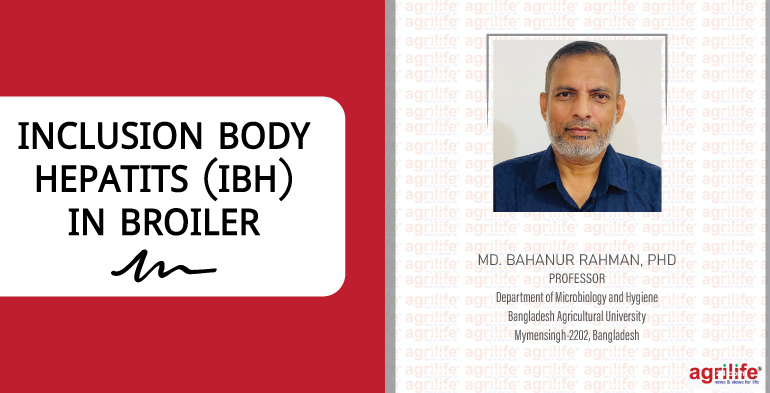 Poultry (Chickens, ducks, turkey and other domesticated birds) stand most important sub sector among all other livestock sectors in Bangladesh. USDA (2019) reported that 36% meat of Bangladesh derive from poultry sector. This indicates the importance of poultry sub sectors in both economy and nutrition development in Bangladesh.
Many people in Bangladesh rely on poultry rearing because they can easily raise chickens at home and poultry sector plays a vital role in rural economic development as well as empowerment of women. Bangladesh poultry contribute 1.5 to 1.6 % GDP (BPICC, 2022) and approximately 6 million people directly and indirectly involved in poultry sector (Business Inspection, 2022).

Backyard poultry rearing in Bangladesh started from ancient times which suffered from many infectious diseases mainly Newcastle disease and fowl cholera.

Bangladesh's poultry sector has been entirely import-dependent in the past but has become self-sufficient in just 30 years. Bangladesh's main poultry products are chicken, duck, quail, pigeons, and turkey. In addition, there are four more diverse types of chickens- Broiler, Layer, Sonali, and local. According to Light-Castle, more than 58.39 percent of the total chickens in Bangladesh are broiler breeds. There are currently over 53,000 broiler farms in Bangladesh (Business Inspection, February 2022).

Sixty-nine crore (69 Crore) broiler day old chick, 4.8 crore layer day old chicks and 28 crore Sonali day old chicks are produced annually in Bangladesh in 2020 (BPICC 2021) and total poultry meat production was 4110.00 crore Kg (BPIC 2021 and Salek 2022). From this data it could be concluded that broiler play a very important role to provide cheap source of meat and protein for millions of people in Bangladesh.

Common infectious diseases of broiler in Bangladesh are Colibacillosis 104/199 (52.26%), Mycoplasmosis 25/199 (12.56%), Salmonellosis 02/199 (1.01%), Omphalitis 23/199 (11.56%), Coccidiosis 09/199 (4.52%), Gumboro 22/199 (11.06%), Mycotoxicosis 11/199 (5.53%) and mixed infection of Gumboro & Coccidiosis 03/199 (1.51%) (Ahmed et al 2009). Another study showed disease prevalence is  22% IBD, 14.03 % Colibacillosis, 13.84 % ND, 7.8% coccidiosis (Badruzzaman  et al., 2015).

During the period of the investigation from July 2016 to June 2017, a total of 3066 samples of poultry either sick or dead were examined for diagnosis of diseases on the basis of clinical history, clinical sings, postmortem and other laboratories examination at Central Disease Investigation Laboratory (CDIL), Dhaka, Bangladesh. Among the overall disease prevalence of viral diseases 33.02% (newcastle disease 30.30%, infectious bursal disease 1.86% and avian influenza 0.82%) followed by bacterial 24.61% (colibacillosis 10.37%, salmonellosis 7.19%, fowl cholera 6.90% and staphylococcal infection 0.13%), protozoal 15.97% (coccidiosis) (Al-Mamun et.al., 2018)

Overall incidence of infectious bursal disease was the highest (29.32%) in broiler chickens followed by salmonellosis (14.29%), new castle disease (11.78%), infectious bronchitis (9.27%), coccidiosis (6.93%), colibacillosis (6.43%), chronic respiratory disease (4.85%), visceral gout (4.68%), necrotic enteritis (1.59%), mycotoxicosis (0.67%) and infectious coryza (0.08) (AL Mamun 2019).

Surprisingly, none of the above studies could identify or even report the presence of Inclusion body hepatits (IBH) in broiler farms although very high broilers morbidity and mortality are reported in different districts and regions of Bangladesh due to unknown etiology. IBHV is Fowl adenovirus (FAdV) belongs to family Adenoviridae, Genus; Aviadenovirus and several species. Aviadenoviruses are medium-sized (90–100 nm), nonenveloped viruses with an icosahedral nucleocapsid containing a double-stranded DNA genome.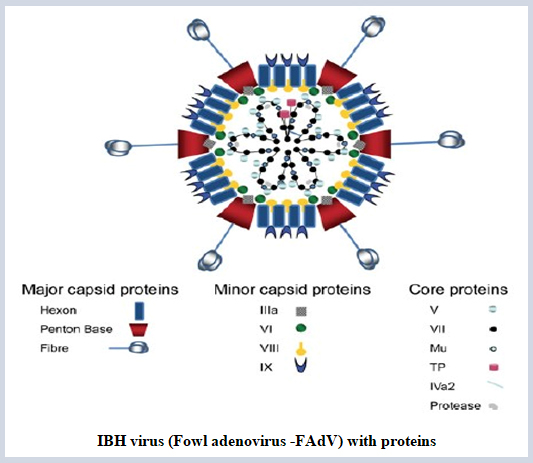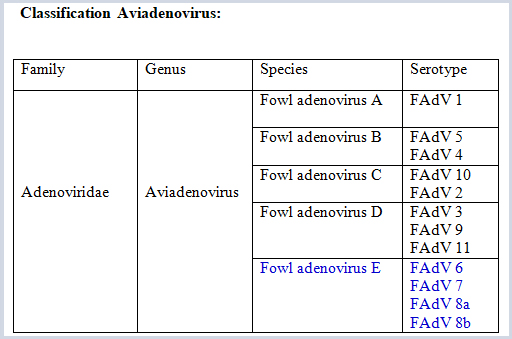 Some basic information of IBH:
IBH (FAdV), first reported in USA, 1963, an emerging broiler disease characterized by sudden onset with a high mortality (may reach up to 80%) (Memon et al., 2006).
Mortality may have observed within 3–4 days of age, followed whole life cycle of broiler birds (Kataria et. al., 2013).
IBH also reported in Layers, Pigeons, American kestrels, Geese, Parrots & Merlin.
Distributed over SEA, Europe, ME, Australia, New Zealand, North America, Mexico, Central and South America (Fitzgerald, 2008; Dar et al., 2012).
The virus is transmitted horizontally and vertically (Noormohammadi, 2019).
IBH was first reported in Bangladesh 2002 in broiler parents who used only serological test (Biswas et al., 2002).
Besides, recent investigation on causes of sudden mortality, lower growth & higher FCR in commercial broiler suspected as IBH in Bangladesh (Saleq, 2020).
FAdV infection is one of the major threat in poultry industries worldwide (Kataria et. Al., 2013)
So far Little is known about IBH prevailing in Bangladesh.
Recently (June 2022) we have detected IBHV (FAdV) in broiler birds from Trishal, Mymensingh (personal communication) & sequenced.
Vaccination is the cornerstone to control infectious diseases.
At present no vaccine from foreign sources & local isolates to control IBH available in Bangladesh.
Before onset of COVID 19 in Bangladesh, we received several reports of high mortality of broilers in Tangail (reported by Dr Akhil, former DLO, Gazipur) and other districts of Bangladesh. Due to Global Pandemic situations we could not proceed for sample collection and further activities. In June, 2022, Dr Tazilla Ferdousi, Veterinary Surgeon, Trishal, Mymensingh requested to visit broiler farms in Trishal with high morbidity and mortality. We visited three small broiler farms in Trishal, Mymensingh, performed postmortem. On postmortem and clinical history, we suspect it might be case of Inclusion body hepatitis virus (IBHV) infection. We collected 13 liver samples from dead broilers for PCR detection and characterization of IBHV in our laboratory jointly with National Biotechnology Institute (NIB). We detected IBHV in 11/13(82.62%) samples. All 11 virus isolates belong to Fowl adenovirus E (FAdV-E) and three FAdV isolates found  as Serotype 8b after gene sequencing. DNA sequence based serotyping of other FAdV isolates re ongoing (Table-1).

1. Table: PCR based detection of IBHV (FAdV) from dead broilers at Trsihal Upazilla, in Mymensingh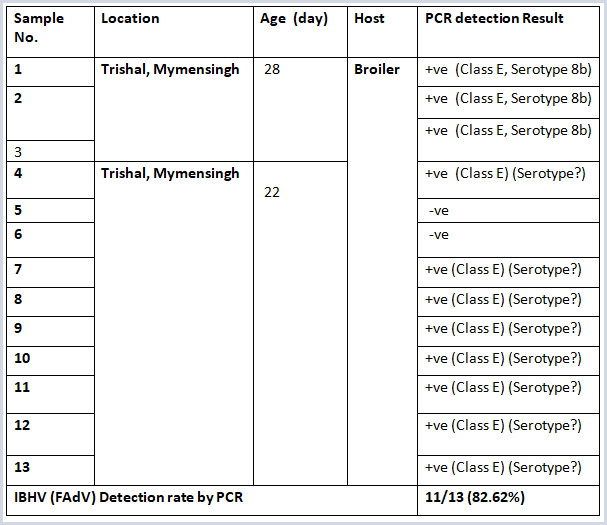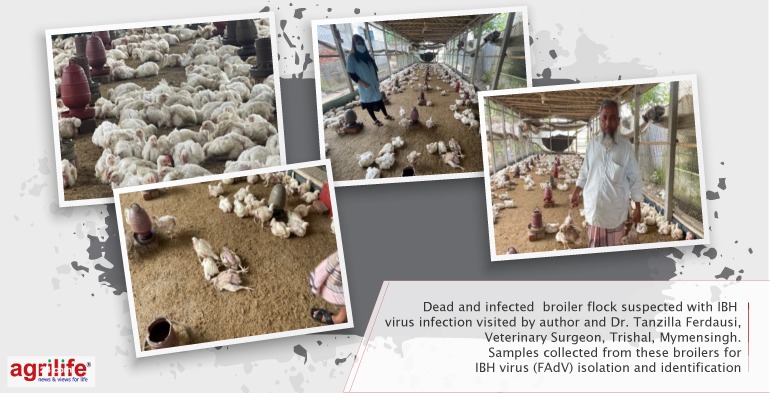 Fig. 1. Inclusion body hepatitis virus (IBHV) infected broiler farm in Trishal, Mymensingh. Morbidity was near 100% and mortality may reach 60-70% or more as all most all birds were infected clinically. Farmer with dead broilers and Upazila Veterinary Surgeon Dr Tanzila Ferdausi (Now Upozila Livestock Officer/ Equivalent post) invited us to visit the affected broiler farms in Trishal, Mymensingh. Dead broilers were collected, postmortem was performed and liver samples were collected in cool box and transported to Department of Microbiology and Hygiene, BAU and portion of samples sent to NIB, Savar, Dhaka.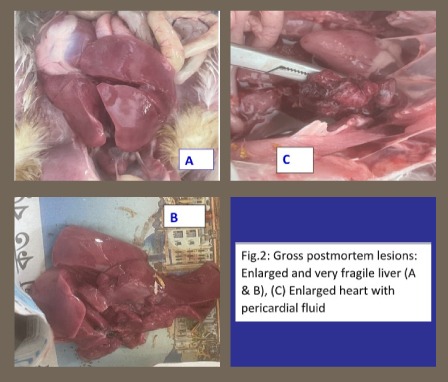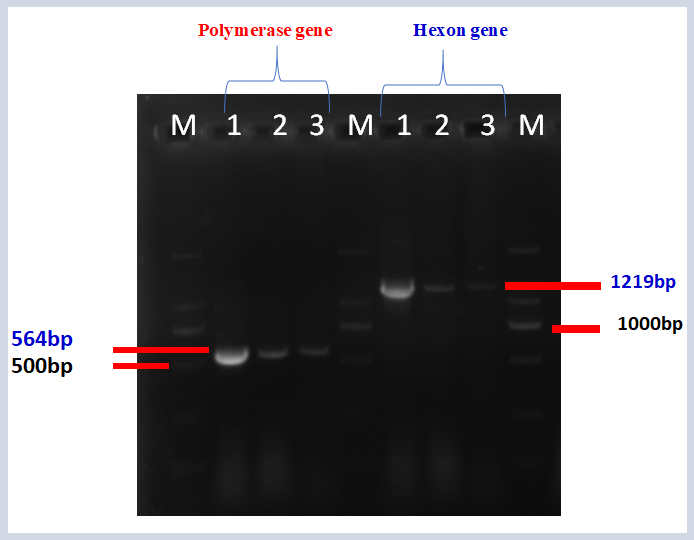 Fig. 3. IBHV (Fowl Adenovirus-FAdV) Detection by PCR,      
                      564 bp Polymease gene and 1219 bp Hexon Gene.
                      Both Hexon gene and Polymerage gene sequenced
                      and submitted to GeneBank.  
GenBank Acession No.: IBH virus (FAdV) isolates from Trishal, Mymensingh
 FAdV/Trishal/Bangladesh/01/2022 OP688506 (hexon gene),
FAdV/Trishal/Bangladesh/02/2022 OP688507 (hexon gene),
FAdV/Trishal/Bangladesh/03/2022 OP688508 (hexon gene)
FAdV/Trishal/Bangladesh/01/2022 OP688509 (Polymerase gene)
FAdV/Trishal/Bangladesh/02/2022 OP688510 (Polymerase gene)
FAdV/Trishal/Bangladesh/03/2022 OP688511 (Polymerase gene)
Conclusion: Inclusion body hepatitis virus (IBHV), a Fowl adenovirus (FAdV) has been isolated and detected by PCR from broiler at Trsihal, Mymensingh in June 2022.  High morbidity (75-80%) and mortality (55-60%) have been found in affected broiler flocks. Hexon gene and Polymerage gene of IBH virus have been sequenced and submitted to GenBank. So far we know IBH vaccine is not available in Bangladesh, it is very important to develop IBH vaccine from local IBH virus isolates. IBH virus has been isolated from collected liver samples. Our team is actively involved in vaccine development from local IBH virus isolates. We think Department of Livestock Services (DLS) need to pay proper attention for prevention and control of IBH infection in broiler industries urgently.

References:
Biswas, PK., Sil, BK., Faruque, R., Ahmed, S., Biswas, D., Chowdhury, S. 2002. Adenovirus induced hydropericardium –hepatitis syndrome in broiler parent chickens in Chittagong, Bangladesh. Pakistan Journal of Biological Sciences. 5(9):994-996.
BPICC (Bangladesh Poultry Industries Central Council) (2020). Farmers are in problems published in The Daily Nayadiganta published on 01/04/2020, Unemployment in poultry industry published in Daily Ittefaq, Newspaper of Bangladesh published on 8/04/2020, Budget in favour of poultry industry published in The Daily Janakantho, Bhorer Kagoj, Samokal on 19/06/2020 and Livestock sector in Bangladesh: A sector of glorious opportunities published in The Daily Janakantho, 05/07/2020
Dar A et al.; 2012. Pathotypic and molecular characterization of a fowl adenovirus associated with inclusion body hepatitis in Saskatchewan chickens. Avian Dis; 56(1): 73-81
Fitzgerald SV, 2008. Adenovirus Infections. In: Diseases of Poultry, 12th Ed, Saif YM, AM Fadly, JR Glisson, LR McDougald, LK Nolan and DE Swayne, eds. Iowa State University Press, Iowa, USA, pp: 251-266
Kataria JM, Dhama K, Nagarajan S, Chakraborty S, Kaushal A and Deb R (2013). Fowl adenoviruses causing hydropericardium syndrome in poultry. Adv. Anim. Vet. Sci. 1 (4S): 5 – 13.
Memon ZN, Gachal GS, Yusuf M and Arian MA (2006). Incidence of hydropericardium syndrom disease in broilers of Hyderabad, Sindh. Int. J. Poultry Sci. 5(7): 673–676.
Noormohammadi, A.H.2019. Inclusion body hepatitis and hepatitis hydropericardium syndrome in poultry. MSD Manual.
Saleque MA.  2020, Technical report: Inclusion Body Hepatitis (IBH): An emerging Poultry disease in Bangladesh

Authors:
Md. Bahanur Rahman, PhD1*, Dr.  Jahangir Alam, PhD2, Dr.  Tanzila Ferdausi 3, Md Harun ur Rashid, PhD3, Mohammad Habibur Rahman
1 Department of Microbiology and Hygiene, 2 National Biotechnology Institute (NIB),
3 Upazila Livestock Office, Trishal, Mymensingh
1* Corresponding author: Professor Dr Md. Bahanur Rahman,
Email: This email address is being protected from spambots. You need JavaScript enabled to view it.