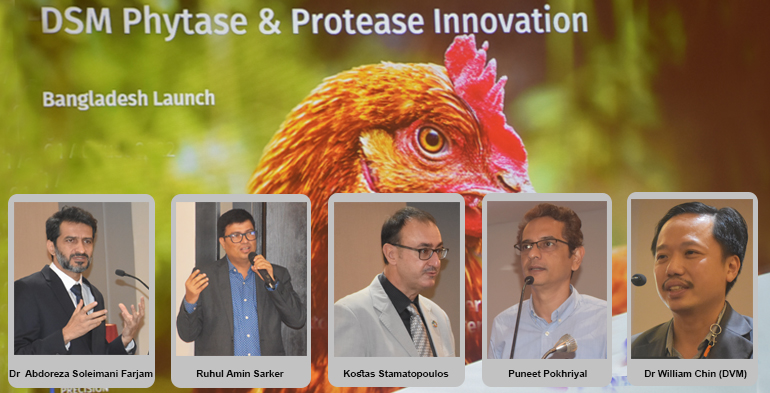 Staff Correspondent: The cost of feed production has increased at an abnormal rate at present due to the increase in the prices of raw materials for feed production, especially soybeans and corn, and almost every other raw material. Researchers are therefore working tirelessly to reduce the cost of food production due to the high cost and scarcity of raw materials.
Addressing these contemporary challenges to ensure sustainable production in the poultry and fisheries industry, the world-renowned science-based & sustainability-driven animal nutrition company DSM Animal Nutrition & Health has announced the marketing of their two innovative products ProAct 360™ and HiPhorius™.

On this occasion, a technical seminar was recently organized at an elite restaurant in Dhaka where technical experts highlighted the ProAct 360™ and HiPhorius™ features.

Experts highlighted the merits and applications of ProAct 360™ and HiPhorius™ in their speeches. The high cost and scarcity of every raw material for feed production is a major challenge in the global context.  Keeping the quality of feed intact, emphasis should now be placed on feed formulation, experts said.

Mr. Ruhul Amin Sarker, Senior Technical Manager of DSM Bangladesh said in his  welcome speech that the two products will be able to ensure sustainable production in the current context to all the stakeholders of Bangladesh's poultry and fisheries sector.  ProAct 360™ and HiPhorius™ will soon be available in the Bangladesh market, he added.



William Chin, Manager, Speciality Enzymes APAC spoke at the beginning. He identifies three challenges facing global food production today: skyrocketing prices of raw materials, disease outbreaks and sustainable profitable production for the foreseeable future. How to deal with these challenges? He highlighted those on whom this responsibility is more.

He said, apart from bird flu, New Castle Disease, Coccidiosis, Gumboro, Mycoplasma etc. diseases were always present in poultry and this challenge will continue in the future so we need to improve our bio security program.  Besides, technological feed formulation is more important now to bring down the cost of food production to a bearable level. The nutritionists involved in this industry bear the greatest responsibility for this.  So they have to shoulder this great responsibility.



Dr. Abdoreza Soleimani Farjam, Senior Research Scientist, Novozymes, Malaysia.In his speech, he highlighted the Novozyme-DSM Alliance issues with the following data. In addition, at the beginning of the event, he demonstrated the technique of using the second generation protease ProAct 360™ in the hands of nutritionists.

Finally, Kostas Stamatopoulos, Senior Global Product Manager-Phytases participated in the discussion titled "ProAct 360™ : The New Market Standard for ProAct 360™ and HiPhorius™: Adding a little wins a lot".



He said the use of second generation protease ProAct 360™ feed production raw material protein amino acids and fourth generation phytase HiPhorius™ ensures easy availability of feed production raw material minerals to produce required energy. Through extensive research and development, these products will ensure poultry production by increasing protein digestibility and gastrointestinal integrity.  Also using them will reduce feed production cost.

Kostas added that the current product is a boon for both farmers and feed producers to formulate a sustainable feed.  During feed production, HiPhorius™ is capable of maintaining its quality during the pelleting process at 95°C.  Digestion of phosphorus exhibits the highest activity of absorption.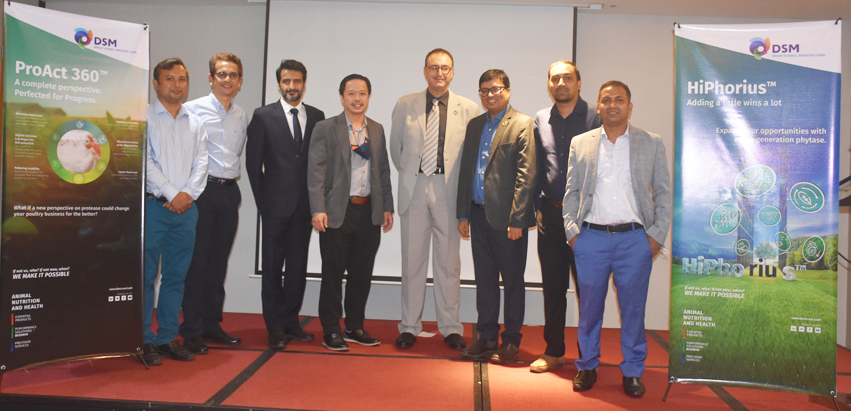 In the closing remarks, Puneet Pokhriyal, Director, South Asia said that they are very happy to be the first in the Asia Pacific region to market ProAct 360™ and HiPhorius™ in Bangladesh. He believes that the nutritionists of Bangladesh are very talented and wise, they will play an important role in sustainable poultry and fish production in this country through the use of these two products.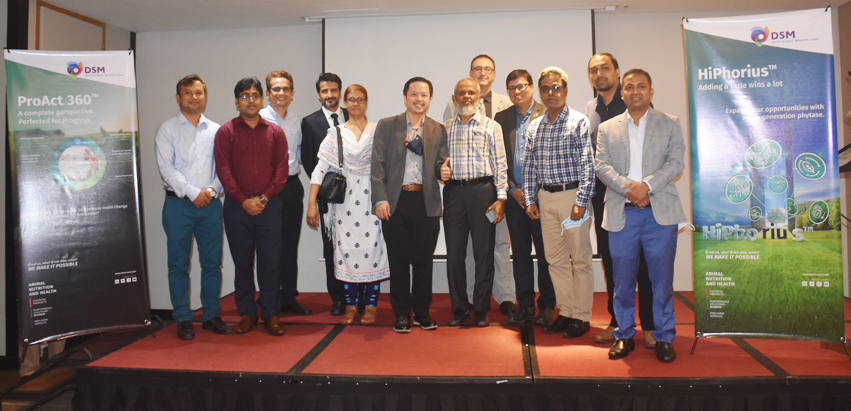 Technical Manager of DSM Bangladesh Dr. Nur Alam, Chayon Kumar Barma and Executive Customer Service Ahmed Risad Karim were present from DSM side along with Mr. Motasim Billah Tareq,  Managing Partner of Halicon Enterprises (distributor of DSM in Bangladesh), and Mr. Nasimul Hoque (DGM), other senior officials of Poultry Consultant and Development Services (distributor of DSM in Bangladesh.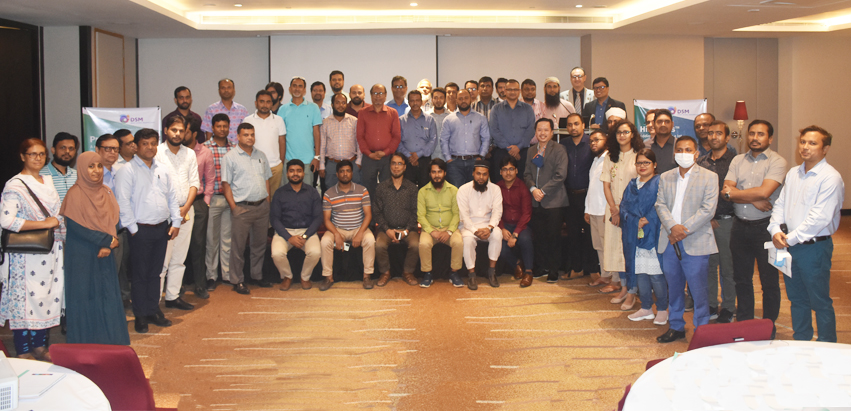 Nutritionists were present at the event believe that it will bring positive results in the production of feed in the country's poultry industry. About 110 guests including poultry-feed sector nutritionists, scientists, senior officials of various industrial organizations of poultry-feed sector from all over the country were present in the launching event.  Finally, everyone participated in a dinner together.