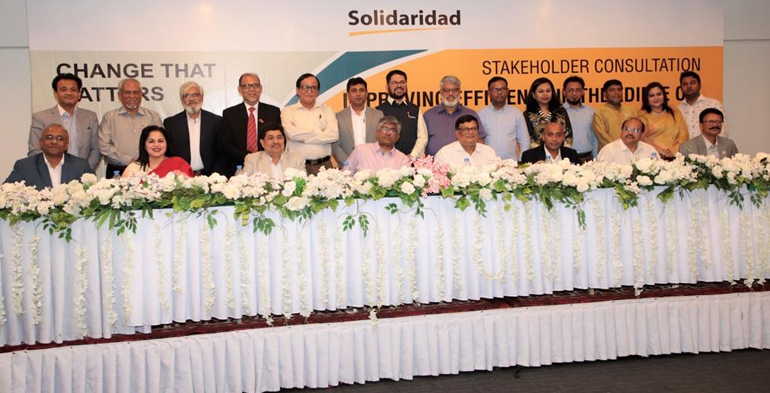 Agribusiness desk:Solidaridad Network Asia organized a Stakeholder Consultation on 'Improving Efficiency in the Edible Oil Supply Chain in Bangladesh' on 26 June, 2022 at Surma Hall Room of the capital's Hotel Pan Pacific Sonargaon. The aim of the consultation was to initiate discussions around the prospect of edible oil production and processing in Bangladesh, identify the challenges and outline way forward to achieve optimum efficiency in the sector.
Mr. Selim Reza Hasan, Country Manager of Solidaridad Network Bangladesh, in his opening speech, highlighted the urgency and the timeliness to initiate dialogues with national and international stakeholders on the demand and growth of the oil and animal feed industries, and also develop strategy and plan of action to make the oil seeds supply more stable and profitable.  

Mr. Tapan Kanti Ghosh, Senior Secretary, Ministry of Commerce, Government of the People's Republic of Bangladesh has graced the event as Chief Guest. Mr. Ghosh emphasised on increasing the production of oilseeds and suggested to determine a combination of production of different oilseeds that can be produced in different locations to become self-sufficient in edible oil. He also emphasised on collaborating with possible global edible oil associations to foster the export opportunities in this sector.

Mr. Md. Amin Helaly, Vice President, Federation of Bangladesh Chambers of Commerce and Industries (FBCCI), Dr. B V Mehta, Executive Director, The Solvent Extractors' Association of India, Mr. Mohammad Mustafa Haider, Ex-President, Bangladesh Vegetable Oil Refiners' and Vanaspati Manufacturers' Association participated in the event as Special Guests.

A panel discussion was organized on the opportunities and challenges in the edible oil sector. The panel was moderated by Dr. Suresh Motwani, General Manager, Solidaridad Asia. Mr. Prokash Dutta, General Secretary, Bangladesh Rice Bran Oil Association, Krishibid Jasim Uddin, Project Director, Oilseeds Development Project, Department of Agricultural Extension and Ms. Bhavna Shah, Country Head, MPOC- India, Nepal and Bangladesh were the discussants in the session.

Professor Dr. M. Abdul Karim, Department of Agronomy of Bangabandhu Sheikh Mujibur Rahman Agricultural University has delivered the keynote presentation on improving the supply chain of edible oils in Bangladesh.
Speakers urged to take integrated approach to develop strategy and plan of action for import and domestic production of oil seeds.  Speakers also urged suggested to take an inclusive approach to connect the oil seed producers with the market system and initiate transfer of knowledge and technologies for scaling the oil seeds production.

Global supplies of vegetable oils had been in crisis since 2021 due to pandemic-induced freight disruptions, and travel restriction created workers' shortage. Unethical stocking of oils, climate change and other economic and political factors, including the Russia-Ukrain war has been contributing towards the crisis. The Government of Bangladesh is exploring to improve oil seeds production. H.E. Sheikh Hasina, Hon'ble Prime Minister of Bangladesh directed in the Executive Committee of the National Economic Council (ECNEC) meeting to become self-sufficient in oilseeds.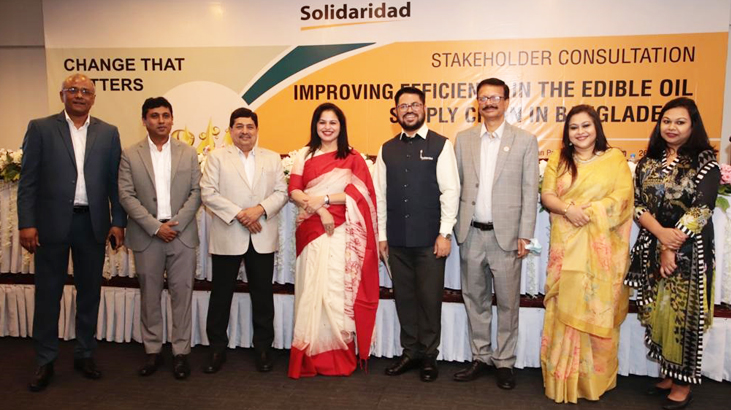 Solidaridad is undertaking a market based approach and engaging multiple stakeholders to improve the productivity of soy in the coastal region. In collaboration with Bangabandhu Sheikh Mujibur Rahman Agricultural University (BSMRAU), BARI and BINA Solidaridad introduced 06 high yielding (2.35 MT/ha) and short duration soybean (85-105 days) varieties. In collaboration with BSMRAU, the intervention has conducted a field trail of saline tolerant soybean varieties, developed cluster based market structures, facilitated linkages with private sector (Nourish) and business linkages with financing organization (Bank) for access to finance.