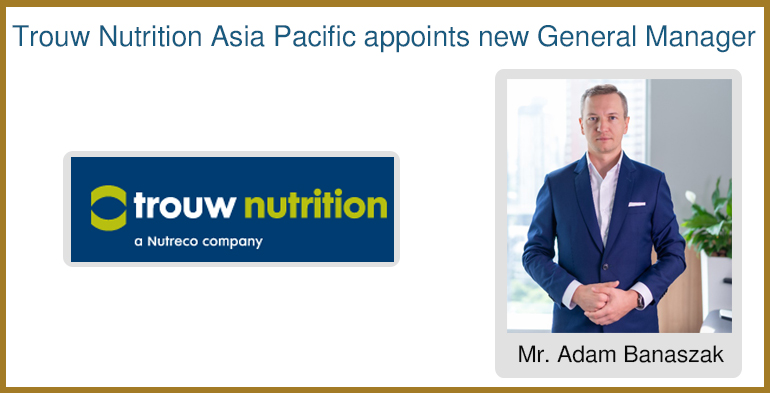 Agrilife24.com:Trouw Nutrition Asia Pacific is pleased to announce the assignment of Mr. Adam Banaszak to the new role of General Manager, effective the 1st July 2022. Adam will spearhead of the development and expansion of Trouw Nutrition in this region. Banaszak will report to the Managing Director of Business Unit Asia Mr. Jurrien Zandbergen.
Adam has intensive experience in Commercial leader with several years of experience in the energy industry. He has been working for SHV Energy in Poland since 2014. He introduced new products to portfolio covering sales of electricity, natural gas, and energy audits. Most recently, he was responsible for company's strategy in the industrial & commercial segment, including customer acquisition and business customer care tank installations powered by LPG and LNG, electricity and natural gas. He was involved in strategic development projects for the LPG and LNG market at national and international level. In November 2020, Adam was appointed General Manager Nutreco Myanmar and he has been leading the business and organization very closely under extremely challenging circumstances.

Adam graduated his master's degree in Management & Corporate Finance from the Poznan University of Economics in Poland jointly with the Karlstad University in Sweden.  

One of the main reasons to join Nutreco is that Adam believes that "feeding the future" in a sustainable way is one of the most important challenges to be addressed globally. Even more so in Asia, where population growth and progressing professionalization of farming present a perfect opportunity for Nutreco and himself to be part of the solutions.