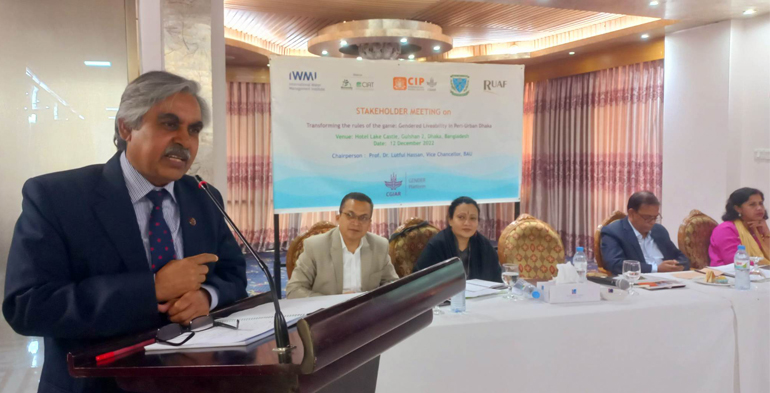 Din Mohammed Dinu:A Stakeholder Meeting on Gendered Liveability in Peri-Urban Dhaka was held  at Hotel Lake Castle, Gulshan 2 in Dhaka, Bangladesh on Monday 12th December, 2022. The meeting was organized by International Water Management Institute (IWMI), Interdisciplinary Institute for Food Security (IIFS), Bangladesh Agricultural University (BAU), Mymensingh and International Potato Center (CIP).
Professor Dr. Lutful Hassan, Vice Chancellor, Bangladesh Agricultural University, (BAU) was chaired on this occasion, while Dr. Rudaba Khondker, Country Director, Global Alliance for Improved Nutrition (GAIN),  Dr. Mohammad Younus from BIDS and Sharifa Parvin of FAO were present as the special guests.

Dr. Debashish Chanda (Country Program Coordinator, International Potato Center [CIP]) and Farhana Hussain Ibrahim (Program Officer-Communication & External Relation, CIP) welcomed all the participants.Prof. Dr. Md Abdus Salam (Department of Aquaculture, BAU,Professor Dr.Anamol Hoque, Director IIFS,Professor Dr. Salam Department of Agronomy, Professor Dr. Shajahan kabir were present and joined as panel discussants.

Prof. Dr. Sadika Haque  & Professor Bentul Mawa (BAU) presented overview of the project.The objective of the meeting is to grow awareness of the current and future researchers, academicians, and policy implementerু on how urban governance of food systems impact gender, power, politics and difference.

On the closing session Professor Dr.Anamol Hoque, Director, IIFS delivered his speech as Vote of thanks.