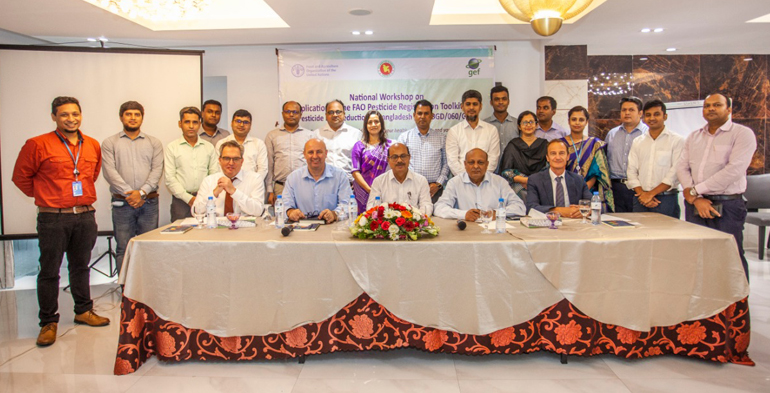 Agrilife24.com:4 September 2022, Dhaka, Bangladesh- The United Nations Food and Agricultural Organization (FAO) initiated a five-day national training on the application of the FAO Pesticide Registration Toolkit (PReT) under the Pesticide Risk Reduction in Bangladesh Project.
The FAO Pesticide Registration Toolkit is a decision-making support system for pesticide registrars in countries with limited resources. The Toolkit is considered as a web-based registration guide designed for pesticide registrars to utilize on a daily basis. The Toolkit can assist pesticide registration staff with a variety of routine tasks, such as locating data requirements, evaluating technical aspects of the registration dossier, reviewing risk mitigation measures, and seeking advice on decision making. The Toolkit also includes links to a variety of pesticide-specific information sources, such as international registrations, scientific reviews, hazard classifications, and etc.

The objective of the workshop is to sensitize participants with the Toolkit's structure and contents, as well as how it can be used in the day-to-day work of pesticide registration staffs. The five-day workshop will be facilitated by international experts and will also sensitize the participants about FAO's International Code of Conduct on Pesticide Management Guidelines on Highly Hazardous Pesticides (HHPs). HHPs are pesticides that are acknowledged to present particularly high levels of acute or chronic hazards to health or environment according to internationally accepted classification systems such as WHO or GHS or their listing in relevant binding international agreements or conventions. In addition, pesticides that appear to cause severe or irreversible harm to health or the environment under conditions of use in a country may be considered to be and treated as highly hazardous. The International Code of Conduct on Pesticide Management developed by FAO and the World Health Organization (WHO), outlines all the stages of pesticide development - including the manufacture, formulation, registration, packaging, distribution, storage, transport, use and final disposal of a pesticide product and/or its container.

FAO's Pesticide Risk Reduction in Bangladesh Project funded by GEF aims to build national capacity for better management of pesticides and hazardous waste with a strong emphasis on preventing the recurrence of similar situations in the future.

Mr. Md. Benojir Alam, Director General, Department of Agricultural Extension (DAE) was present as the chief guest and Mr. Nur Ahamed Khondaker Assistant FAO Representative (Programme), FAO Bangladesh was the special guest of the inaugural session of workshop. Mr. Saso Martinov, Senior Technical Coordinator, FAO Bangladesh initiated the inaugural session with the welcome speech. Mr. Harold van der Valk, International consultant on pesticide management/Environmental Expert, FAO HQ, Italy, and Mr. Milan Ivic, Highly Hazardous Pesticides Expert, FAO HQ, Italy, will lead the five-day workshop. Representatives from the pesticide registration authority and the pesticide registration board/committee will attend the workshop. Participants also included experts from universities and research institutes.