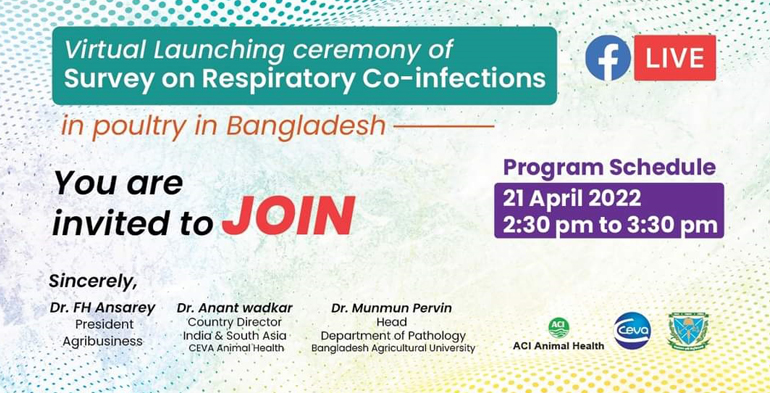 Agrilife24.com: ACI Animal Health cordially invites you to join a virtual Launching ceremony of "survey on respiratory co-infections in poultry in Bangladesh". This is a collaborative research initiative between Department of Pathology, Bangladesh Agricultural University, ACI Limited and CEVA to assess the present state of circulating respiratory viruses in poultry and to propose solutions of respiratory disease management for the poultry industry.

Program Schedule 21 April 2022 2:30 pm to 3:30 pm BDT.

Director General of DLS  Dr Monjur Mohammad Shahjada, has given his kind consent to be the Chief Guest for the launching ceremony. Mr. Moshiur Rahman, President, BPICC and Prof. Dr. Md. Mokbul Hossain, Dean, Faculty of Veterinary Science, BAU will join as special guest in the program.

Dr. FH Ansarey President of ACI Agribusiness looks forward to welcoming you in this event.

Professor Dr. Rokshana Parvin,DVM, PhD (Germany, DAAD fellow), Postdoc (FLI, Germany, AvH fellow), Department of Pathology, Faculty of Veterinary Science, Bangladesh Agricultural University will join as Key note speaker. Dr. Anant wadkar, Country Director (India & South Asia)  CEVA Animal Health will also  join in this program.

Click HERE to Join the Launching ceremony
The goal of this project is to find out the prevalence of Respiratory diseases like ND, IB, ILT and AIV in Bangladesh. ACI ANIMAL Health will analyse seasonal patterns as well as prevalence in different farm segments (Broiler,layer, Breeder). As the leader in poultry vaccine, . ACI ANIMAL Health wants to know the disease pressure of Bangladesh and launch vaccines accordingly.

 ACI ANIMAL Health  have done the same for Cevac New Flu H9K  & they have send lot of samples from Bangladesh to Phylaxia and phylogenetic analysis revealed that its G1 lineage(H9), the very strain ACI ANIMAL Health have launched.
With this project, ACI ANIMAL Health will have the ability to do the Phylogenetic analysis locally (BAU), therefore reducing the lead time. Similarly, variant IB like QX, Indian variant is common as per our finding but this project will improve further awareness among the scientific community and industry. Likewise, Newcastle disease is evolving rapidly; different genotypes have been isolated but only one serotype so far.  

Thus, there needs to greater education and collaboration between company, industry and university. ACI ANIMAL Health  want to bring all together and work for the betterment of Bangladesh.