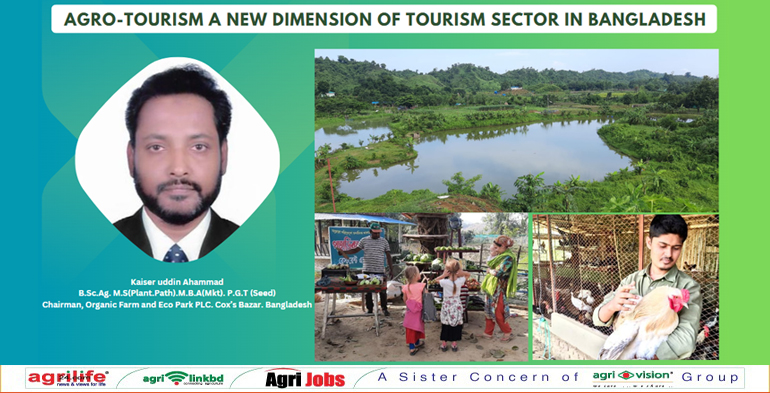 Kaiser uddin Ahammad: Bangladesh is a young and developing nation with a long history and culture and over the last 30 years, Bangladesh has been consistent GDP growth of above 6.5%. Our youthful 160 million people are extremely resilient and prepared to take on many challenges of life. It is a country of fertile land and 70% of the people are depends on agriculture. Bangladesh has been putting tremendous efforts to develop its agriculture for the last few decades and subsequently acquiring world's top position in producing many agricultural produce including Rice (3rd), Jute (2nd), Jackfruit (2nd), Potatoes (7th), Tropical fruits (6th), Mangoes (8th), Tobacco (12th) and farmed fish (5th).
Being an agricultural country Bangladesh embraces all these achievements with the hard work of our farmers along with the support of the government. Bangladesh has three sectors of generating revenue. Those are industry, agriculture and services. Tourism is a part of the service sector. Tourism can be classified in a number of ways based on the nature of activity, location type or duration of stay. Such as heritage tourism, cultural tourism, historical tourism, geo-tourism, adventure tourism, eco-tourism, agro-tourism. Agro-tourism is one of the fast growing travel trends in the world as well as in our country. We might be curious to learn more about agro-tourism. While not an entirely new concept Agro-tourism plays an increasingly important role in diversifying and revitalizing rural economics, connecting people with rural culture and tradition and fostering sustainable tourism. Thus it is a rural -urban relationship which can bridge the gap between farmers and city dwellers for the benefit of both. According to fortune business insight the global agro-tourism market size was valued at $ 69.24 billion in 2019and projected to reach $ 117.37 billion by 2027 with a compound annual growth rate of 7.42% during the forecast period of 2020-2027.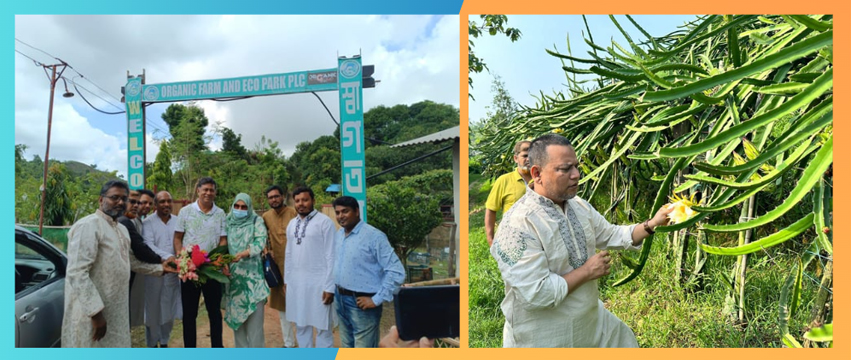 What is Agro-tourism means?
Agro-tourism is an integrated farming based business and intersection of tourism and agriculture for the purpose of education, entertainment and rest. Rural landowner or entrepreneurs invites visitors to engage in activities like camping, tasting, picking or harvest crop, ranches, orchards, fishing, milking, horse riding, feed farm animals, enjoy plantation, swimming in the lake or ponds etc. that helps foster a deeper understanding of farming process through hands on experience. Agro- tourism in a way of involve education and be educated mindfully to connect visitors with good agriculture practice , organic farming, rural culture, participating in traditional and modern agricultural practice without damaging the surrounding natural environment. By paying to engage various events and activities that helps in economics and staying overnight at farm house, bed and breakfast, playing in unused land interacting with the owners and workers in exchange for cultural and educational experience that connect urban people to food sources that contribute to the socio-economic condition.
Importance and Benefits:
Tourism proving itself as a global economic power house, the merger between tourism and agriculture seems like a practical path forward to diffuse mass tourism and support agriculture business. Beyond the economic importance, agro-tourism plays a vital role in cultural preservation by providing value to traditional lifestyles and customs and it offers numerousbenefits including the following:
 Supports eco-farming practices and follows an eco-friendly farming ethos that considers the environment by avoiding chemical pesticide, engaging in regenerative community based practices and growing food that aligns with the local ecology and seasonal climate.
 Learns to visitors to be respectful to the environment and helping to the exploring of nature like insight and nearby landscapes and scenic beauty.
 Having a socio-economic impact by engaging with the owners and workers on the farm that learned lots about unique geology and climate, economic vitality of the region, cultural significance of farm produce and agriculture, information and farm staff to help educate and their livelihood craftsmanship.
 Provides an additional income source to the farmers and generates employment opportunity to the family members and rural youth.
 Additional income source protects farmer against income fluctuations and enhances their socio-economic dignity as well as standard of living.
 Enhance cultural transformation between urban and rural people and enrich social and moral values.
 Supports for rural and agricultural development process and prevents local people to migrate to cities in search of employment.
 People get a chance to re-connect with their soil by offering a 'hands on experience' with the agricultural techniques and methods.
 The stimulating economic growth, valuing cultural heritage and raising the standard of living encourage positive attitudes and behaviors of the communities towards agro-tourism.
 Agro-tourism improves the community infrastructure and assists in revitalizing the flagging economies of rural areas. Encouraging the development of farm stays to diversify farm income is an effort to retain farmers in business, attract new entrants to agriculture, and promote countryside's development.
 Provide an opportunity to educate people both holistic and modern methods of farming and the risks involved in everyday agriculture and improve people's understanding local food system.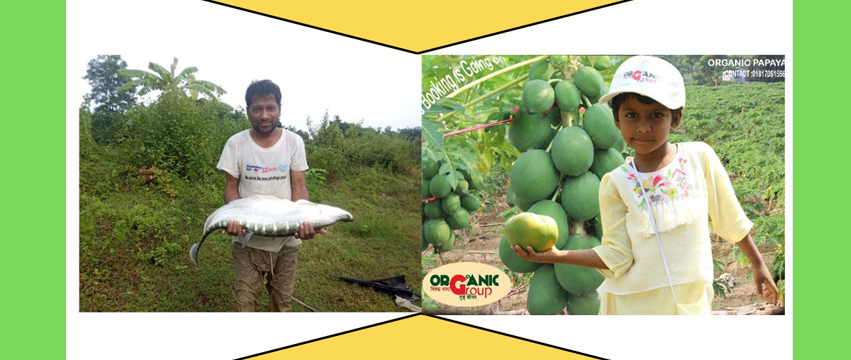 Why people love Agro-tourism and scopes?
There is lots of scope and reasons will make you fall in love with Agro- tourism like.
 Learning tools and training videos for student and farmers group
 Boost agricultural revenue.
 Support economic diversification.
 Revitalize rural communities.
 Value trading and culture.
 Support diverse people in business.
 Support year-round employment.
 Connect with the Origins of Your Food.
 Engage in cultural exchange.
 Get some fresh air.
 Stock up on fresh, local products.
 Enjoy slow travel.
 Party at a festival.
 Stay in amazing accommodation.
 Expanded market.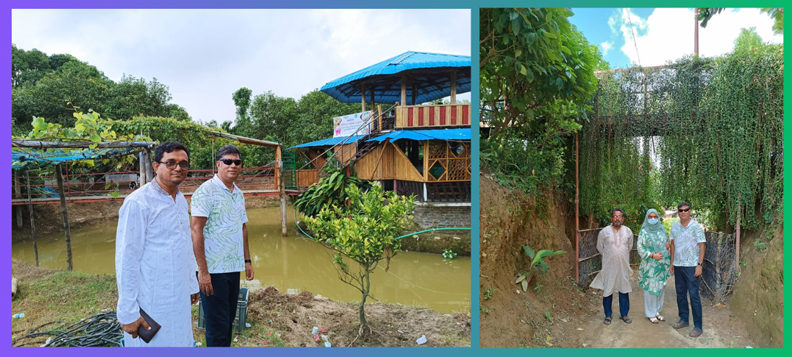 Facilities and Services:
A piece of land with something different it's natural and charming environment, provides the nourishment of one's mind and gives a relief from the busy and monotony life.
 Eco-cottage may provide you very natural feelings and enjoy lovely nights.
 A Farm shop which may satisfy your needs of local handicrafts, organic fruits, different types of fishes, Organic dry fish, dairy milk, yogurt, chicken & eggs, coffee and green tea, local spices, juice & drinks, readymade seedlings for roof and homestead gardening
 Hilly and plain walk-way that touches the lake or river and green hills with huge guest birds and animals.
 Place of amusement with fresh air, hilly greenery and natural beauty that may enjoyable to all for the children, for the young and for the old, for the near and dear ones. The calm, quiet and green environment will obviously refresh your mind within a blinking of your eyes.
 Boating, fishing and angling may be your first choice in the farm with kid's zone.
 Organic fruits and farm fresh fruit Juice, green Tea and fresh coffee along with café and restaurant service may refresh your mind and thoughts.
 BBQ with fish and sweet corn may give added enjoyment.
 Transport and catering services of Farm may ease your anxiety.
 Very good road communication, electricity, internet and transportation facilities

Challenges of Agro-tourism:
 Provides low financial return at first and a poor farmer cannot effort  Can be hard work for you and your family members or partners to develop agro-tourism
 May require developing new skills for tourism and integration of work.
 Require more effort to keep clean the farm, safe and presentable, which can sometimes affect primary and regular operation.
 Can create staffing issues and increase paperwork.
 Time-consuming and complicated to learn about and comply with a host of applicable laws and regulations.
 Often requires spending money upfront to improve facilities for visitors and meet regulatory requirements.
 Not familiar terms for most travellers and thus the market are not well defined. Need for education to make visitors aware of Agro tourism experience as a viable option.
 No insurance coverage in integrated farming and agro-tourism.
 Security for home stay visitors.

I would like to inform about one agro-tourism based integrated farm in Cox's Bazar that starting since 2017 with vision to establish Integrated Organic Agro Park. The Farm covers total 75 acres of hilly forest area of Naikhongchori and Ukhiya, Cox's Bazar, rounded by the scenic beauty, river, walk way, lake, orchards, eco-cottage, restaurant, juice bar, playground along with Integrated farming. They receive about average 150-200 number of local and foreign visitors every day in the farm. Specially, in holyday huge visitors (500 to 1000) make gathering in the organic agro park. It was very difficult initially to establish the farm as agro-tourism but now days it is running very smoothly and getting healthy return from investment.
The aim of the concern is to give the highest level of satisfaction maintaining a high standard of business ethics and trying to offer facilities and services like, family groups enjoy a day out picking fruits, fishing, enjoy the regular agriculture work, a petting and butterfly zoo, food tasting events or attending a wedding on a farm for couples checking into a bed and breakfast for a long anniversary weekend and enjoy slow travel and slow food. The Philippines is now among the world's top agro-tourism destinations. Bangladesh government has been implementing the master plan to promote tourism sector in Bangladesh. Today the demand continues to grow for agro-tourism worldwide as well as Bangladesh.
Writer:  B.Sc.Ag. M.S(Plant.Path).M.B.A(Mkt). P.G.T (Seed), Chairman, Organic Farm and Eco Park PLC. Cox's Bazar. Bangladesh