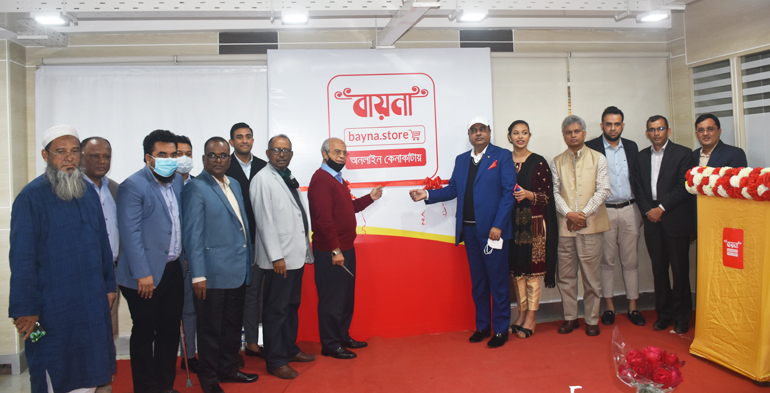 Business Reporter: bayna.store has officially started its journey through which all the consumer goods of Ahsan Group are easily available on one platform. E-commerce and online shopping are increasing with the development of the country. In addition, consumers are becoming more and more interested in online shopping to make people's standard of living easier during COVID-19 situation. This initiative of the Ag Foods undoubtedly deserves praise and the invited guests who came to the event think that it will play a very important role in creating a wonderful bridge between the entrepreneurs and the consumers.
Mr. Shahidul Ahsan, Chairman of Ahsan Group & eminent industrialist of the country inaugurated the bayna.store as the chief guest at Ahsan Tower in Mohakhali on Sunday (January 31) afternoon to make life easier for the people of the country.  Chairman of DBC News and Editor of English Daily Observer Iqbal Sobhan Chowdhury was present as a special guest.



On the occasion Mr. Manjurul Islam, CEO, DBC News, Mr. Lutfor Rahman, CEO, AG Agro Foods, Mr. Rehnuma Ahsan, Managing Director, AG Agro Foods, Mr. Rushaid Ahsan, Director, AG Group, Mr. Mahbubur Rahman, Chief Financial Officer, AG Agro Industries  General Manager, Jabed Hasan Bhuiyan and other directors of the group and senior officials of the company were also present.



The guests said that bayna.store will establish itself as a milestone through honesty, dedication of the e-commerce. AG Group acts not only for commercial purposes but also for consumers.  The guests wished the overall well-being and success of bayana.store.


bayna.store is AG Agro Foods' digital platform from where consumers will get all the products and services of Ahsan Group.  Keeping food security in mind and all facilities are present in here.  As a result, even in this covid situation, consumers can buy AG Agro Foods products at home. They believe that such an entrepreneur will bring huge changes in the country's economy.  Both the entrepreneur and the buyer will benefit through bayna.store.  

Click for details bayna.store Enjoy all the excellent offers. bayana.store is currently offering free home delivery.