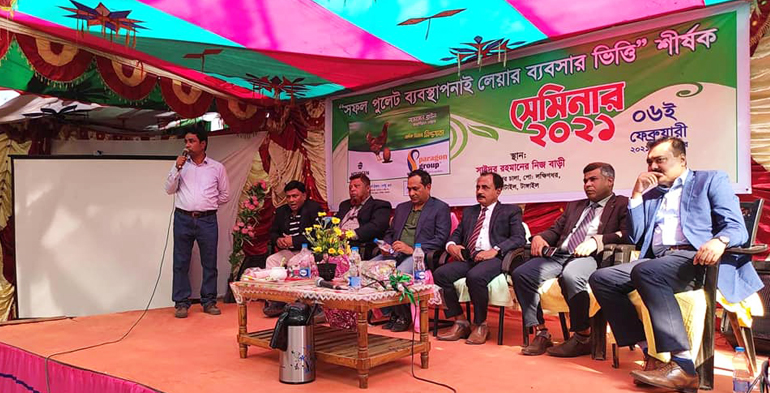 Agrilife24.com: "Successful Pullet Management is the foundation of layer business". Pullet management is a major issue for commercial layer farmers. During this period the farmers have to be very careful about the overall aspects of pullet management. Rearing of the young pullets is an essential phase on a layer farm. Optimal management of chicks and pullets ensures optimal egg production and a healthy and productive layer flock.
And if these chicks of 16-18 weeks of age are not properly reared, they will not be able to give the desired production.  That's why farmers prepare poultry in such a way that they can lay one egg/day in their life cycle.
Invited guests in attendance said commercial layerr farms are supplying huge chunks of animal protein by providing safe eggs for the country's consumers.  Most of the commercial layer farms have been established in Tangail area of the country. Ensuring up-to-date technical assistance is required for farmers in the area so that they can make the desired profit.  In the technical speech, the speakers also said that if Pulet is good then his life cycle will be good.  This will also increase productivity.  At the same time, the incidence of diseases will be reduced to a great extent.

On the occasion Mr. Moshiur Rahman, Managing Director, paragon Group was present as the Chief Guest in the presidency of Dr. Md. Rana Mia, District Livestock Officer, Tangail.  Ghatail Upazila Livestock Officer, Md. Abdul Mannan Sarishabari Upazila Livestock Officer under the district of Jamalpur Dr. Md. Mostafizur Rahman, CEO of Avon Animal Health AKM Sayeed Sarwar (Litu), proprietor of M/s. Rifat Poultry Farm in Sagardighi Bazar Mr. Saidur Rahman were present as a special guest.  



Prominent Poultry Consultant Gaus Khan delivered the keynote address at the seminar. Mr.Homayun Kabir, DGM (Sales and Marketing) of Paragon Poultry, Md. Ziaur Rahman, Head of Sales of Avon Animal Health and Dr.Bikash Chandra Biswas were also present and conducted the seminar.

The seminar was organized in collaboration with Paragon Poultry Limited and Avon Animal Health under the overall supervision of M/s. Rifat Poultry Farm, which is highly regarded by the farmers in the area as the best distributor of Paragon Poultry Feed. Around 500 Layer Farmers enjoyed the seminar.