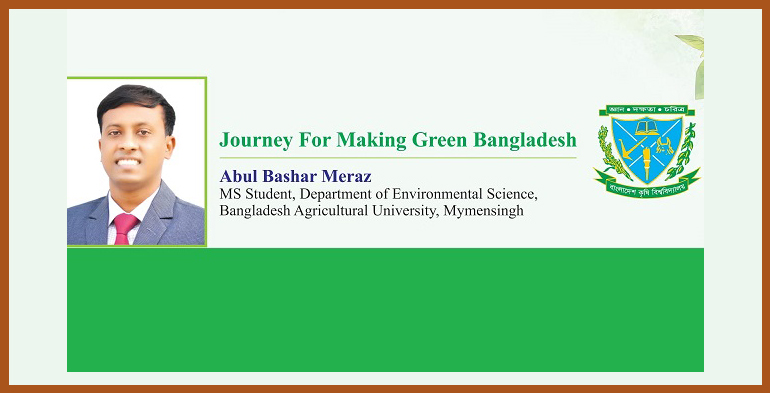 Abul Bashar Meraz:My home district is Bogura. During the Corona period, my university was closed. At this time, I stayed at my village home. A paved road has been built next to my house. But the landslide is not going to stop the road in the rainy season. The government  spends a lot of money to repair these roads. Every year, it is a kind of loss for the country. To protect from this loss, it should plant a lot of trees. For this I did not sit at home but went down to work. I started planting trees with the help of the youth of the area to prevent the landslide.
I think the problem is not just in his area. This problem is within the whole district. If trees can be planted along the roadsides of the entire district, then road landslides and river erosion can be prevented. If we can do this, green Bogura or green Bangladesh will be formed. With that aim, I started planting trees and raising public awareness in different upazila and river bank one after another. Within a month, I completed tree plantation and public awareness programme in 21 places in 12 upazilas of my district. Seeing my activities, many people planted saplings in different places of the district also.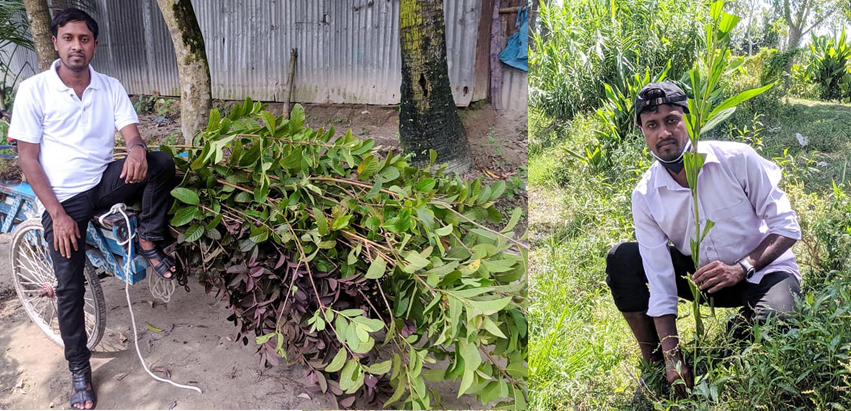 As a student of the Agricultural University, I have a lot of knowledge about agriculture. I know difference between planting trees on the side of the road or on fallow land which can be planted in houses and institutions. There are also differences in planting saplings across the soil. Because a tree that grows in high ground may not grow in low ground. Again, not just planting trees, but proper care is needed. I created public awareness by visiting 21 places in the district to know how to take care of them. I started planting trees with my savings of 5,000 tk. But after a few days it was over. At that moment, I took the help of his loved ones and well-wishers. I planted more than 2100 trees with the cooperation of all.

I took up the task of planting trees and raising public awareness as a kind of challenge. Gifts from loved ones and well-wishers were my strength. Wherever I went to plant trees and raise public awareness during the monsoon season, I got a huge response. I have seen that many people have become enthusiastic about planting trees. It is good to see that they have planted trees on the land left next to the house. In fact, I got inspiration just by watching it.



Tree is our true friend in there be no doubt. But the country is losing greenery day by day due to deforestation due to construction of houses and setting up of factories. We all have to come together to increase the amount of forest resources of the country and build a green Bangladesh.

It is a fact, soil of Bangladesh is much more fertile than any other country in the world. But even though we have this unrestricted opportunity, many of us are not using it. And it will not work even if it is just sitting in the hope of the government. Especially young and student society like us need to come forward. I believe that if everyone plants at least one tree a year, the country's forest resources will improve by 25 per cent in a short period of time. I want to deliver this message of green to spread everyone. I also expressed hope that if everyone cooperates, it will be able to turn green Bangladesh by spreading tree planting and public awareness work in all 64 districts of the country.

Writer is a MS Student, Department of Environmental Science, Bangladesh Agricultural University, Mymensingh.