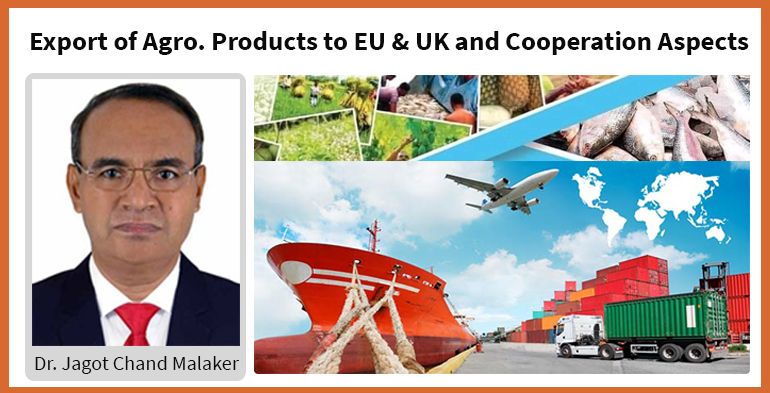 Dr. Jagot Chand Malaker:Bangladesh is an agriculture country and the agriculture sector contributes 14.75% to GDP. Bangladesh achieved self-sufficiency in food crops production. The annual rice production is 34.71Million MT. Bangladesh exported 346.25 million USD agro products including fresh fruits and vegetables, frozen food items, spices, aromatic rice, dry foods, stuff, flowers, seeds, live trees, etc., to various EU countries in FY 2020.
Farmers of our country are the main contributor of our resilience food systems. Regarding production farmers played vital role to feed us as well as whole nation. We have to ensure good agricultural practices (GAP) in the production levels to get safe and resilience food systems as well as safe exportable items of agricultural products.

We have taken several initiatives for enhancing Export facilities in recent years, but still have many challenges on food safety issues. Therefore, we may need your practical training support to develop efficient & competent lab staff. In addition, assistance in risk-based inspections and risk management regulatory framework is also being sought to upgrade the PQW into and independent National Plant Quarantine Authority (NPQA).
Department of Agricultural Extension (DAE) works at the field level and under this department Plant Quarantine Wing (PQW) works as a regulating authority to boost up and maintain the export of plants and plants products, beneficial organisms and packing materials complying with the phytosanitary requirements of importing country in consistence with international agreements. PQW has 30 plant quarantine stations (Airport-3, Seaport-3, Riverport-1, Inland Container Depot-1(ICD), Inland Container Terminal-1 (ICT) and Landport-21) at different entry and exit points of Bangladesh. As a signatory to the WTO-SPS Agreement of the WTO and FAO-IPPC it is legally binding/mandatory for Bangladesh to comply with the international rule-based regulations and protocol while exporting and importing plants and plant products.

In FY 2020, the country exported USD 346.25 million worth of products such as fresh fruits and vegetables, frozen food items, spices, aromatic rice, dry foods, stuff, flowers, seeds, live trees, etc., to various EU countries including UK, Italy, French, Greece, Germany, Sweden, Finland, Switzerland, Austria, Netherland, Ireland and Belgium

Success in Agriculture, Bangladesh
Bangladesh Position in the world ranking and so proud of Bangladesh and Farmers
• 3rd in Rice Production
• 2nd in Jute production
• 1st in Jute Export
• 3rd in Vegetable Production
• 3rd in Onion Production
• 4th in Tea Production
• 8th in Potato Production
• 7th in Mango Production
• 8th in Guava Production
• 28th in Fruit Production
• 1st in Crop Variety

During the production period of vegetables and fruits due to low market price and lack of well communicated transport facilities and cool storage facilities, huge amounts fresh vegetables are damaged. So attention should be given to save fresh vegetables fruits. So process industry should be developed and also create the export opportunity.

Ongoing plan
The following activities have taken:
Government has approved a project entitled "Upgradation of Existing Plant Quarantine Laboratory Project" to ensure safe export of agricultural products and increased export up to 25 to 30 percent, develop trained laboratory staff and to ensure and explore market more opportunities in Europe and Middle East. Another formation of a Draft Project Proposal (DPP) for establishment of" National Agriculture Laboratory" at Purbachol, Dhaka, Bangladesh. FAO will provide consultancy and other assistance for DPP layout. Crop Zoning. Plan for establishment of regional Packing House with cooling, sorting, grading and inspection facilities for enhancing international market access and value chain supply of agricultural products. Area of Low pest prevalence.Create capable manpower to develop awareness regarding bio-pesticides. Put into practice all kinds of surveillance, pest listing and PRA. Formation of a PRA team. Formation of a Plant Quarantine Training Hub needed

Support need to mitigate the challenges for Export/ Import of Agriculture Commodities

Need support for establishment of National Plant Quarantine Authority (NPQA) which is laid down in Plant Quarantine Act, 2011 following the Phytosanitary Capacity Evaluation (PCE) because there are gaps in the Plant Quarantine Act, 2011, act number (3).Need support in updating, drafting, and approving laws, rules, and standard operating  procedures (SoPs) and manuals that govern and regulate agricultural trade and also need training to facilitate PQW to simplify processes and reduce documentation for import and export. Need support to PQW by  providing  training  and technical assistance to focal points who collect and disseminate update information, and consistently respond to enquiries on the country's trade portal and enquiry points. Need support in strengthening  risk  management  (RM)  systems  by  upgrading  and  connecting IT systems, providing  IT hardware  when necessary,  and by  building the capacity of PQW staff to implement and enforce new sample-based testing procedures and by coordinating training in food safety, RM, and surveillance techniques. Need practical  curriculum-based  training  by  offering  a  study  tour for PQW officials to examine and observe how other nations apply risk-profiling and use visual inspections and sampling tools. Need support to improve laboratories' capacity to comply  with  international standards by updating  SoPs, creating  testing and  e-certification linked with Automated System for Customs Data (ASYCUDA), and upgrading tools, equipment, and processes.  

Need support to establish an accreditation system for public and private laboratories that sets sampling procedures that are harmonized across the PQW's RM system and that meet ISO 17025 (or if newer one) standards and the requirements of international standard-setting bodies, including International Plant Protection  Convention, World Organization for Animal Health and Codex Alimentarius Commission. Need support from the donors agencies to develop SoPs for testing priority  agricultural products and training interventions  that will build labs' capacity to implement on-going staff training in sampling, testing, and lab operations. Need support to promote, facilitate, and incentivize investment in the-cool-chain for agricultural products necessary for maintaining the safety and quality of high-value perishable goods. Need venture support in building, and operate large-scale cold storage facilities at key air and sea ports and also in the production areas. Training on Pest Risk Analysis (PRA) and eradication procedure

Exportable items of UK& EU countries
• Vegetables: Bottle gourd, ash gourd, arum, taro, stolon, stem of colocasia, leaves of colocasia, banana flower, plantain (kacha kola), papaya, pumpkin, drum stick, coriander, country bean, country bean seed, onion leaves, teasel gourd, pointed gourd, bitter gourd, green chili, hot chili, radish, cucumber, ridge gourd, snake gourd, amaranthas, red amaranthas, okra, cabbage, turmeric, eggplant, betel leaf etc
•  Fruits: Mango, jackfruit, Banana olive, hough palm, zara lemon, guava, tamarind, palm, wood apple, anola, Indian dellinia, toikar, sapota, egg fruit (dephol), sugarcane, coconut.
•  Handicrafts and Frozen food items, spices, fine aromatic rice dry foods, stuff, flowers, seeds, and live trees, etc
•  Agro products including fresh fruits and vegetables, frozen food items, spices, aromatic rice, dry foods, stuff, flowers, seeds, live trees, etc.
•  Countries to Export: UK, Italy, French, Greece, Germany, Sweden, Finland, Switzerland, Austria, Netherland, Ireland and Belgium
•  To import fresh vegetables, fruits and aromatic rice from Bangladesh and re-export these items to different countries of EU and UK.
•  To import processed food items (puffed rice, chips, candy, mango bar, fruit juice, spices from Bangladesh and re-export these items to different countries of EU and UK.
•  Export of frozen items (Ready Bread/ Rooti, different types of cakes, somocha, singara, vegetables, green mango, jute leaves etc.

Recently we have taken several initiatives for enhancing Export facilities
Production of fruits and vegetables through Contract Farming with maintaining Good Agriculture Practice (GAP) and traceability.PQW generates all certificates by an online platform where traders could apply and get online certificates in any place. These automation processes reduce the issuance of fraudulent certificate and ensure transparency. Capacity building through different types of training provided by Improving Phytosanitary Trade Compliance in Bangladesh, an USDA funded project. Inter ministerial meeting with different organization for co-ordination. Pest List and 17 Pest Risk Analysis (PRA) has been done by SPCB project. According to the demand and recommendation of the European Union, Govt. of Bangladesh built a central packing house with facilities including cooling, sorting, grading, inspection and packing by SPCB project. Fresh fruits and vegetables are exported into EU country through this packing house. Exporters and farmers registration.Modernization of PQ stations by SPCB project. Enter in a process of establishing e-phyto system for more transparency. Including a Reference Laboratory in Khamarbari, Dhaka, Plant Quarantine Wing established 16 quarantine laboratory at different entry and exit point of the country.

Conclusion:
Bangladesh has already taken many steps towards reducing poverty and making its food system more resilience but there are still some measures that must be taken by the country. Now many Agro products including fresh fruits and vegetables, frozen food items, spices, aromatic rice, dry foods, stuff, flowers, seeds, live trees, etc are exporting.

Production of fruits and vegetables through Contract Farming with maintaining Good Agriculture Practice (GAP) and traceability. Standard Operating System (SoP), Cargo plane/Chattered plane with available space for agricultural goods for exports, agricultural goods plane fair should be adjusted with neighboring countries (Asian).Official staff and exporter's skill have to develop. Exporters and farmers registration system have to develop. Modernization of PQ stations and their laboratories have to develop. Training on Pest Risk Analysis (PRA) and eradication procedure would be ensured. Need support in strengthening  risk  management  (RM)  systems by upgrading  and  connecting  IT systems, providing IT hardware when necessary, and by building the capacity of PQW staff to implement and enforce new sample-based testing procedures and by coordinating training in food safety, RM, and surveillance techniques. Need to establish a Plant Quarantine Training Hub. If we want to export mango in Japan Vapour Heat Treatment (VHT) facilities should be developed. Need to develop many plant quarantine laboratories (accredited) for getting certificate before safe export and establish more packing houses to ensure riskless export to UK and Europe. Here private sector should come forward. During the production period of vegetables and fruits due to low market price and lack of well communicated transport facilities and cool storage facilities, huge amounts fresh vegetables are damaged. So attention should be given to save fresh vegetables fruits. So process industry should be developed and also create the export opportunity. Also Netherlands can import different fresh vegetables, fruits and frozen items (Ready Bread/ Rooti, different types of cakes, somocha, singara, green mango, jute leaves, processed food items (puffed rice, chips, candy, mango bar, fruit juice, spices from Bangladesh and re-export these items to different countries of EU and UK.

Therefore, we may need your practical training support to develop efficient & competent lab staff. In addition, assistance in risk-based inspections and risk management regulatory framework is also being sought to upgrade the PQW into and independent National Plant Quarantine Authority (NPQA). We have to ensure good agricultural practices (GAP) and traceability in the production levels to get safe and resilience food systems as well as safe exportable items of agricultural products.

Writter: Deputy Director (L.R.), Plant Quarantine Wing. Department of Agricultural Extension, Khamarbari, Dhaka-1215, Bangladesh.
Email: This email address is being protected from spambots. You need JavaScript enabled to view it., This email address is being protected from spambots. You need JavaScript enabled to view it.