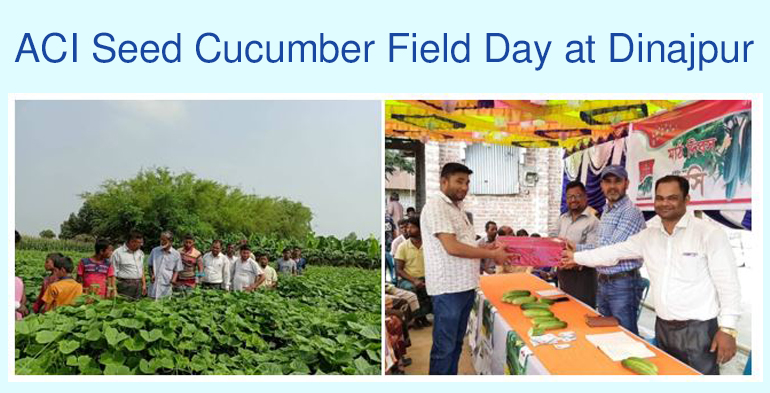 Business desk:ACI Seed arranged a Field Day Program on cucumber variety Messi recently at Birganj, Dinajpur. Mr. Iqbal Hossain, Sales Manager; Mr. Zakir Sarder, Regional Sales Manager; Mr. Rezaul Islam, Area Sales Manager of ACI Seed were present at the program. More than 60 farmers and retailers participated in the program.
The Managers of ACI Seed discussed the characteristics and performance of the variety. Mr. Aizuddin Bepari cultivated Messi in 20 decimal lands and he has already harvested fruits 7 times from his land. He expected to get 75-80 mond yield from the field. He is very pleased to get the excellent results of Messi in terms of plant appearance, fruit size, color, shape etc.

Messi is a promising cucumber variety of ACI Seed. ACI Seed is giving a special focus on the variety considering its market potentiality. The farmers have got satisfactory results by cultivating Messi in Rabi Season in different places of the country. The cultivation period of the variety is September to March and it is a winter special variety. The fruit color is attractive green and fruit size is 16-18 centimeters long. The average fruit weight is 250-260 grams. About 85-90% of fruits are uniform in size, shape and color. The average yield is 15-16 MT per acre. Messi looks very attractive with green color and the farmers are getting more price than any other variety in the market.

The participating farmers and retailers were very excited to see the performance and know the key information about Messi through the program. Now they are committed to cultivating the variety in the next season.