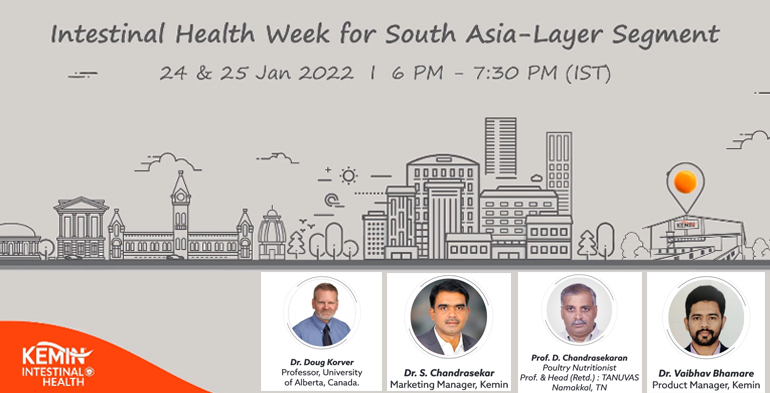 Agrilife24.com:We are all in a journey together to produce quality protein to the human society. We ensure access to important nutrients for a sustainable quality of animal and human lives. And this initiative from Kemin South Asia is a small part of that journey. Kemin cordially invites you for two consecutive days (24 & 25 January 2022) of insight sharing sessions from renowned experts.
Time & Date:24 Jan 2022, Monday I 6:00 - 7:30 PM (IST)
Topic:"Intestinal Health and Skeletal Health for Layers"
Dr. Doug Korver will simplify the complexity in managing better bird health through gut. He will share insights on nutrition and immunity, & its impact on skeletal development and egg quality.
Date:24 Jan 2022, Monday
Topic:"Pre-Pullet Management-The Opportunity"
Dr. Chandrasekar holds experience of 15 plus years in poultry production for nutritional efficiency, health practices through different feed & feed additive solutions. He will share the current challenges and opportunities to improve pre-pullet management practices for better layer production.

Time & Date:25 Jan 2022, Tuesday I 6:00 - 7:30 PM (IST)
Topic:"Gut Health and Optimizing Production cost in Layers"
Prof. D. Chandrasekaran is health and nutritional expert. He will share insights on the top 5 focus areas for managing pre-pullet in layer segment which will help egg producers for a better quality and quantity of eggs, economically.

Date:25 Jan 2022, Tuesday
Topic:"3 Focus Areas of Management in Layer"
Dr. Vaibhav holds an overall experience of 11 years in various streams. He is working with South Asian poultry producers to achieve better gut health and performance through Kemin intestinal health products & services.

Click HERE to register Now!