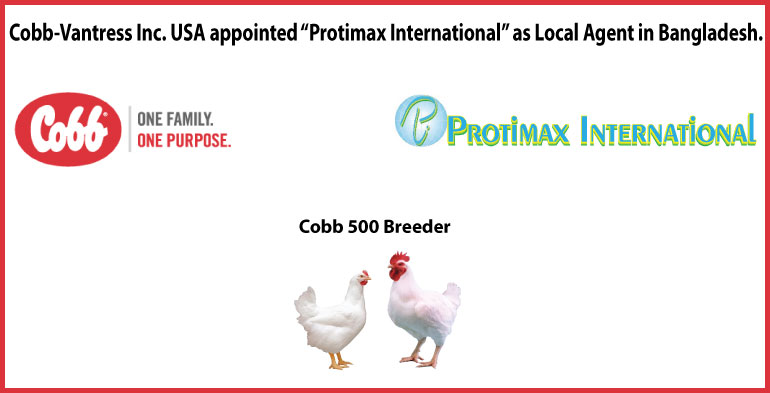 Business reporter: To Support Poultry Industry in Bangladesh Cobb-Vantress Inc. USA appointed "Protimax International" as their Local Agent in Bangladesh. With the better services & IMPROVED GENETICS Cobb started new journey in Bangladesh said Md. Golam Masud CEO, PROTIMAX INTERNATIONAL.
By utilizing long experience of working with the poultry sector for the last 31 years, Mr. Masud said they will ensure broiler genetics to make quality protein accessible, safe & healthy, and affordable in Bangladesh. Products and expertise is our top priority for our customers added Mr. Masud.

He told agrilife24.com that the industry is now struggling with the rising prices of poultry feed ingredients worldwide. But this Cobb variety/strain is recognized worldwide as a LOW-DENSITY FEED EFFICIENT GROWTH & PROFITABLE broiler rearing traits' breed.

Its improved genetics delivering excellent breeder performance, good livability, predictable egg production, high chick numbers, flock uniformity, fleshing & feathering optimized as well as higher hatchability.

In addition, Commercial Broiler Performance is also excellent. Economic traits for low density feed make the farmer profitable broiler farming- the advantages of Cobb Genetics and special traits. Cobb breed also performs with feed efficient growth & higher growth rate, good Bird's welfare traits, quality meat production.

Golam Masud  expressed "We are proud to have them as our partner and look forward to continuing to help accomplish the government's goal to increase food safety as well as security" through working together with broiler farms, PS and GP customers as "One Family".