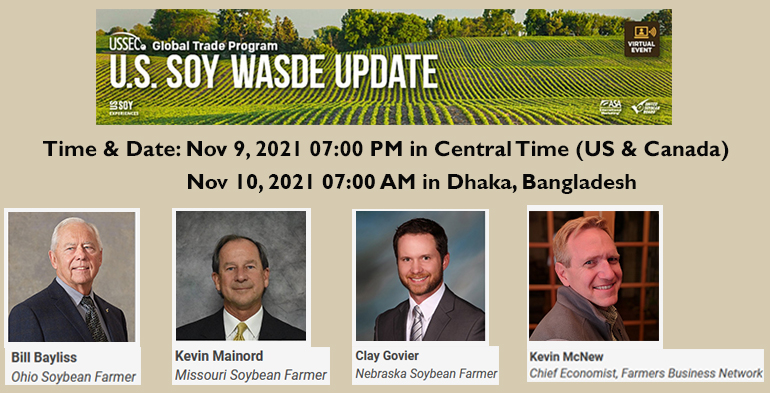 From field to export terminal, join U.S Soy insiders for a special harvest edition of the WASDE Update

Agrilife24.com:The World Agricultural Supply and Demand Estimates (WASDE) is a monthly report published by the United States Department of Agriculture (USDA) providing a comprehensive forecast of supply and demand for major crops globally and United States).
The report provides an analysis of the fundamental condition of the agricultural commodity markets for the use of farmers, governments and other market participants. Traders, farmers and soy processors around the world refer to the WASDE report as an indicator at to where supply and demand, and ultimately the price soybeans may go.

With U.S. soybean harvest nearly 75% complete, we all have questions on what's next in both the market and U.S. Soy. How might harvest numbers impact my portfolio? What should I keep my eye on in the coming months? How are soybean farmers preparing for the growing season ahead?
 
Join grower leaders Bill Bayliss, Kevin Mainord and Clay Govier, along with Farmers Business Network Chief Economist Kevin McNew, as they answer these questions and more throughout the November WASDE Update.
 
These featured guests will be joined by USSEC's CEO Jim Sutter and Mac Marshall, USSEC and United Soybean Board vice president of market intelligence, for global insights and an exclusive update.

Time & Date: Nov 9, 2021 07:00 PM in Central Time (US & Canada)
Nov 10, 2021 07:00 AM in Dhaka, Bangladesh

USSEC is pleased to announce that it is initiating a monthly Global Webcast updating its partners around the world on the WASDE report and its potential implications for soybean markets. Each monthly report will include an analysis of how the U.S. Department of Agriculture has updated the global supply and demand projections for soybeans, and also feature an invited market analyst to offer opinions on how the changes to the WASDE might impact soybean markets.

Don't miss this special harvest edition of the U.S. Soy WASDE Update - November 9 from 7:00 - 7:45 pm Chicago Time, partially funded by U.S. soybean farmers and their checkoff. Click HERE to register today and reserve your spot!