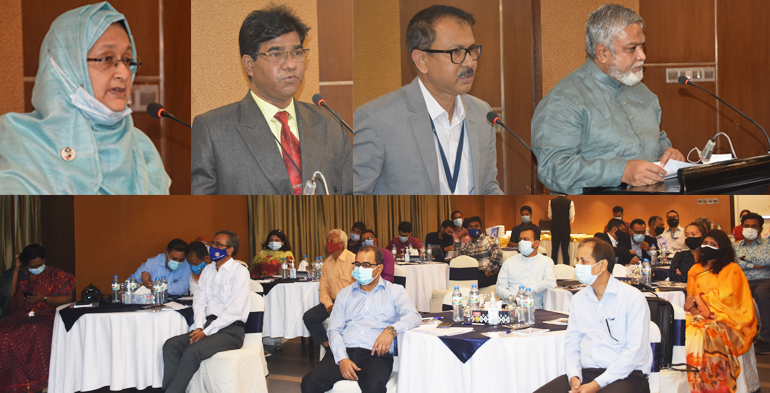 Capital Correspondent: Aftab Feed Products Ltd. has unveiled a new horizon among the country's fish farmers and distributors by officially launching the Aftab Digital Apps and Call Center. USAID, World Fish and Aftab Feed Products jointly took the initiative to implement this project. Following this, their two digital initiatives started their journey on Saturday, October 30.
Aftab Feed Products Ltd., a subsidiary of Zahurul Islam Companies, one of the leading agro-industries in the country, organized an event on the occasion at an elite restaurant at Banani in the capital city of Dhaka. Quazi Shams Afroz, Directo General, Department of Fisheries was present as the chief guest on tha occassion.

After the recitation of the Holy Quran, Mr. Abu Lutfe Fazle Rahim Khan, Managing Director of Aftab Feed Products Ltd. delivered the welcome speech. He said They will ensure effective service by establishing app-based supply chains for effective and accurate feed supply at the farmer level. In addition, their company will ensure services related to fish farming by efficient fisheries experts for the purpose of providing quality services through Aftab Call Center (Aquaculture).



Through this project, the entire supply chain management of Aftab Feed will be managed digitally added Fazle Rahim Khan. Dealers/sub-dealers/fish farmers/LSP can order feed directly from the app by looking at the online catalog according to their needs which is similar to online shopping. In addition, through Aftab Call Center (Aftab Krishi Service) any fish farmer can get all the information related to fish farming and any of Aftab's services by calling from his mobile from any part of the country.

Chief Guest Quazi Shams Afroz said that these two digital initiatives of Aftab Feed Products Limited will be a milestone in providing proper services to the fish farmers of the country. By providing services to the fish farmers they will be able to improve their quality of life through their profitable fish farming. They can easily contribute to safe fish production by following modern methods of fish farming. The Director General hopes that other feed companies in the country will take such initiatives to build a digital Bangladesh.

USAID's Economic Growth Officer, Project Management Specialist Mohammad Sayed Shibli, World Fish's Chief of Party (COP) Dr. Manjurul Karim Md. Reshad Alam, Vice President, Source Trace, Mr. Aung Tun Aye, CEO of Agro Solution were present and delivered their speech.

Aftab Digital Feed Supply Chain Management's apps will be available on Google Play Store. It can be used by any fish farmer or dealer by downloading the app from Google Play Store. On the other hand, through Aftab's call center service, fish farmers will get immediate solution to any problem related to their fish farming.



The organizers organized a lively Q&A session on these two digital initiatives. There is a detailed discussion on how the two services can be taken up more in the future.
Finally Mr. ATM Habibullah, Executive Director (operations) of the company delivered the closing speech. The entire program was conducted by Senior Manager (Admin and Corporate Affairs) Aftab Bahumukhi Farms Limited, Md. Mamunur Rahman.