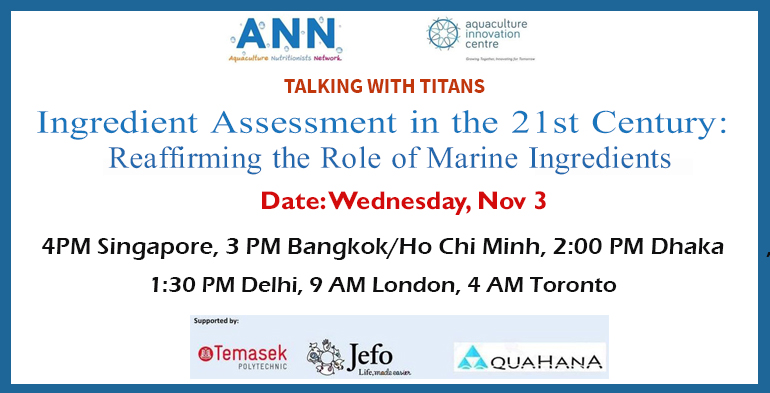 Agrilife24.com: Aquaculture Nutritionists Network and Aquaculture Innovation Centre jointly organized a webinar on "Ingredient Assessment in the 21st Century: Reaffirming the Role of Marine Ingredients" on 3rd November 2021 (Wednesday).
Time: 4PM Singapore, 3 PM Bangkok/Ho Chi Minh, 2:00 PM Dhaka, 1:30 PM Delhi, 9 AM London, 4 AM Toronto, 10 PM Hawaii (Nov 2).

A prolific writer, author of many key scientific studies, an experienced professional who recently moved from Academia to Industry, the guest speaker of the next @TalkingwithTitans session is Dr. Brett Glencross discussing ingredient assessment of 21st century and the role of marine ingredients. As usual, he will be accompanied by Dr. Albert Tacon and Dr. Kabir Chowdhury.

This presentation re-examines what strategies worked what didn't and why the sequence of ingredients assessment is critically important. In This reflection Dr.  Glencross will also expand on where he thinks the science of ingredient assessment is heading and how marine ingredients are clearly reaffirming there role as strategic ingredients in modern aquaculture nutrition.

This webinar supproted by Jefo, Aquahana LLC & Temasek Polytechnic.

Click HERE https://lnkd.in/gquiczua to Register now!