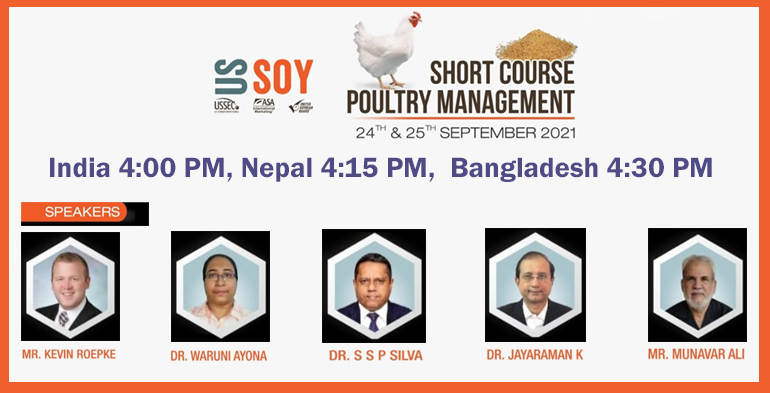 Agrilife24.com:The adoption of best management practices are key to success for any enterprise. To that end, the poultry and livestock industries have many unique situations that require delicate attention. Biosecurity, animal welfare, feed efficiency, and labor relations are just some of the myriad challenges which creates issues on the farm and requires problem solvers to address.
Using US soybean meal in poultry feed rations is one of the greatest ways to address many issues because US Soy keeps poultry healthy and therefore naturally immunized by delivering a consistently valuable nutritional bundle. Now that India has the opportunity to import and use US soy in its rations, USSEC encourages everyone to "Dare to Compare" the difference between sources of soy and its comparative advantages in amino acid digestibility, and energy levels.

USSEC has designed this short course on poultry management to discuss the best management practices that have evolved throughout the region and exchange ideas on poultry management

Time: Sep 24, 2021 04:00 PM and Sep 25, 2021 04:00 PM

Click HERE for registration

The participants who will attend entire course of two days shall be eligible to receive e-Participation Certificate.