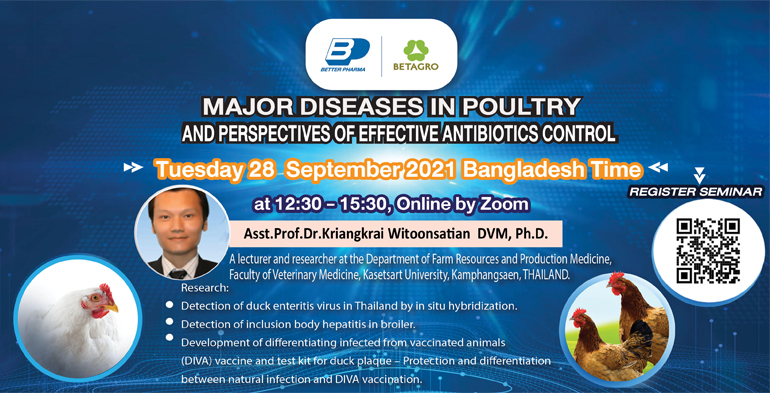 Agrilife24.com:Better Pharma company cordially invites you all to join a Technical Webinar on topic "MAJOR DISEASES IN POULTRY AND PERSPECTIVES OF EFFECTIVE ANTIBIOTICS CONTROL". This webinar will be held on Tuesday 28th September 2021, 12.30pm-03.30pm, Bangladesh Time.
Asst. Prof. Dr. Kriangkrai Witoonsatein DVM Ph.D, A lecturer and researcher at the Department of Farm Resources and Production Medicine, Faculty of Veterinary Medicine, Kasetsart University, Kamphangsaen, Thailand will be present as key speaker. His knowledge and experience from the field of poultry health management absolutely help to improve your institution such as
• Poultry herd health management
• Detection of duck enteritis virus by in situ hybridization.
•Detection of inclusion body hepatitis in broiler.
• Development of differentiating infected from vaccinated animal (DIVA) vaccine and test kit for duck plaque – Protection and differentiation between natural infection and DIVA vaccination.
•Etc.
Date: Tuesday 28th September 2021 Time: 12.30pm - 03.30pm, Bangladesh, Place: online Zoom Meeting.
Click HERE or SCAN QR code for registration now.
FOR MORE INFORMATIONS
PLEASE CONTACT via our Global email, Facebook and BETTER PHARMA employees of each country at any time.
Mr. Apiwat Wuttinimit
Country Sales Manager-International Animal Health Business
Better Pharma Company Limited
Betagro group, Thailand
Tel/Whatsapp : +66915518423
Mail : This email address is being protected from spambots. You need JavaScript enabled to view it. , This email address is being protected from spambots. You need JavaScript enabled to view it.