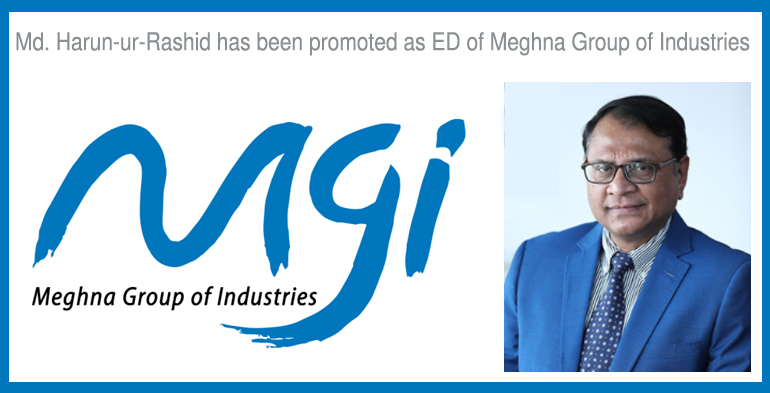 Agrilife24.com: Md. Harun-ur-Rashid has been promoted as the Executive Director of Meghna Group of Industries (MGI).  Mr. Harun is acting as the unit head of 08  various affiliatess of Meghna Group.  He has been working in Meghna Group since 2003.  He has previously held various important positions in Sena Kallan Sangshta,  GQ Group, Shovon Group.
Mr. Rashid was born in 1968  at Naikani Bari of Basail upazilla in Tangail district.  His village home is in Borni of Delduar upazila of Tangail district.  After obtaining a post-graduate degree from Dhaka University, he started his career in 1995 by working in Sena Kallan Sangshta.  He has been successful in his career through his experience, talent, wisdom and hard work.

Mr. Rashid is involved in various social organizations in addition to his professional responsibilities. He is the Joint Secretary of Feed Mill Industries Association of Bangladesh (FIAB), Permanent Member of All Community Club Ltd. (ACCL) and Dhaka Boat Club Ltd. (DBCL), Life Member of Purbachal Club Ltd. (PCL) and  the Member of FBCCI, the apex body of traders.

Md. Harun-ur-Rashid, a very good-natured and active person. His wife was a senior official at the US Embassy and currently lives in the United States with her two daughters. The newly promoted Mr. Md. Harun-ur-Rashid expressed his sincere gratitude to all concerned including the management of Meghna Group and expressed his determination to work more dynamically in the future. He sought the sincere cooperation and blessings of his colleagues, business stakeholders, officials of various organizations, professional well-wishers and all.