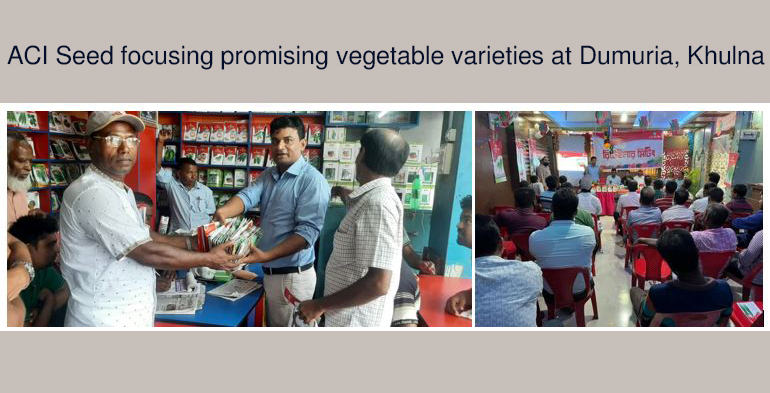 Agrilife24.com:ACI Seed arranged a retailers' meeting focusing on promising vegetable varieties. The meeting was held with the assistance of M/S Habib Beej Bhander at Chuknagar, Dumuria, Khulna recently. Dumuria is a very potential place for vegetable cultivation in Kharif Season. Farmers cultivate the vegetables of Cucurbitaceae group at gher area in this season.
The main crops are bitter gourd, bottle gourd, snake gourd, sponge gourd, ridge gourd, cucumber, pumpkin, and watermelon. By targeting these crops, ACI Seed is promoting Bitter Gourd Papiya Super, Papiya Super Gold, Samrat, Prince; Bottle Gourd Moyna; Cucumber Salad; Pumpkin Sweet Spot, Water Melon Icebox etc.

ACI Seed conducted the program with 38 retailers to educate and create awareness about the characteristics and key benefits of the focused varieties.

Mr. Mizanur Rahaman, Business Manager, ACI Seed was present as chief guest in the program. Mr. Iqbal Hossain, Sales Manager; Mr. Jahidul Islam, Sales Manager; Mr. Abdul Monnaf, Area Sales Manager, Mr. Israfil Hossain, Territory Executive of ACI Seed; Mr. Wahid Hasan, Market Development Officer of East West Seed and Mr. Habibur Rahman, Proprietor of M/S Habib Beej Bhander were present in the program.

The retailers showed their interest to sell ACI products proactively in this season. There was also an arrangement of spot sales. ACI Seed expects to harvest satisfactory sales of vegetable varieties in the current season.