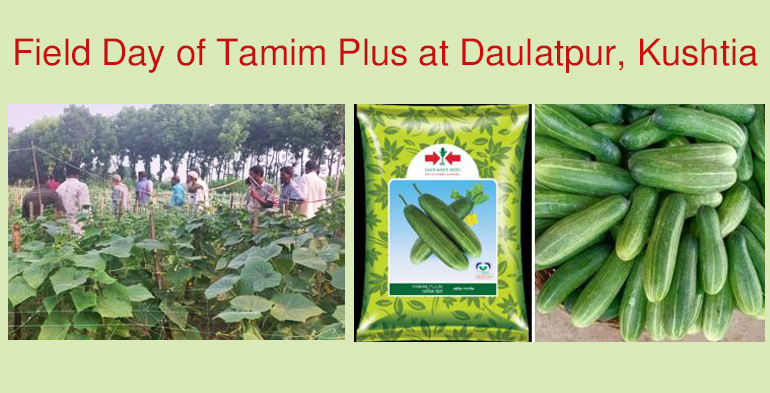 Agrilife24.com:ACI Seed arranged a Field Day Program of Tamim Plus, a prominent variety of cucumber of East-West Seed recently. The field day was held under M/S Khan Beej Vander at Daulatpur, Kushtia. Daulatpur is a potential place for cucumber cultivation in winter season instead of tobacco considering the profitability for the farmers.
In the recent season, the farmers got satisfactory results by cultivating Tamim Plus. The cultivation period of the variety is September to March and it is winter special variety. The fruit color is attractive green and fruit size is 16-18 centimeters long. The average fruit weight is 250-260 grams. About 85-90% of fruits are uniform in size, shape and color. The average yield is 15-16 MT per acre. Tamim Plus looks very attractive with green color and the farmers are getting more price than any other variety in the market.

The Team of Kushtia Area arranged the field day program to show the performance of the variety to the retailers, farmers and DAE personnel. Mr. Yusuf Alam, Asst. Marketing Manager; Mr. Anowar Hossain, Area Sales Manager; Mr. Mehdi Hasan, Marketing Officer of ACI Seed; Mr. Juwel Rana, Market Development Officer, East West Seed and Md. Tohidul Islam (Mukul), proprietor of M/S Khan Beej Bhander were present during the program. More than 60 farmers and retailers participated in the program. The Officers discussed the characteristics and performance of the variety. The cultivating farmer was very pleased to get excellent results of Tamim Plus. He expected to harvest 38- 40 mond fruits from the field.

The participating farmers and retailers were very excited to see the performance and know the key information about Tamim Plus through the program. Now they are committed to cultivating the variety in the next season.