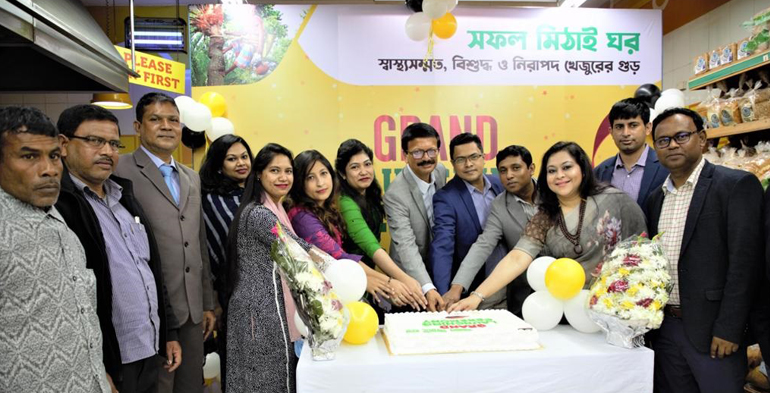 Agrlife24.com:The launching ceremony was held at the Gulshan outlet of Agora, the country's first retail chain. Solidaridad Network Asia, in collaboration with Jagoroni Chakra Foundation facilitated the production and supply of safe, healthy and delicious Khejurer Gur (jaggery) under its flagship project 'Sustainable Agriculture, Food Security and Linkages (SaFaL)' project.
The unique delicacy is being marketed under the project's value added product brand "SaFaL Mithai Ghar". These Khejurer Gur are sourced from trained farmers, locally called 'gachi', who follows the health and hygiene guidelines provided by Department of Agricultural Extension (DAE) and disseminated by SaFaL project. SaFaL facilitated the supply chain of this winter delicacy from Jashore to reach the consumer base in Dhaka. Agora Limited, through its 15 outlets spread all over Dhaka, will supply the high quality Gur to the country's urban consumers to ensure health and wellbeing while enjoying the sweetness of the Jashore.

Khandaker Nur-E Borhan, Head of Commercial Marketing of Agora Limited inaugurated the ceremony in presence of the senior officials from Agora and Solidaridad. He mentioned that Agora prioritize on quality and safety of food for which they are working with Solidaridad to promote safe agricultural products from farm to fork. As part of the continuation, they are launching safe Khejur Gur and in future will continue to keep this committed supply chain moving.

Mohammad Moziball Hoque, Senior Manager, Supply Chain and Business Development, Solidaridad Network, mentioned that Solidaridad is bridging the smallholders' products through farmer's cooperatives to reach the consumers and paving the way for future food system.

Mr. Selim Reza Hasan, Country Manager of Bangladesh, Solidaridad Network Asia in his speech, mentioned that Solidaridad as an international network organization is working with the smallholder farmers, workers and value chain actors around the world. In Bangladesh, through SaFaL and other agricultural projects, efforts are contributing to supply safe food to the consumers in the rural, peri-urban and urban context. Solidaridad is glad to continue the partnership with Agora and hope to facilitate supplying high quality safe food for these consumers through the retail outlets.

Among others, Ipshita Habib, Manager, Resource Mobilisation and Advocacy, Solidaridad Network Asia, Chistia Hydar Sahrmin, Officer, HR and SMT Support, Solidaridad Network Asia, Md. Raihanul Islam Chowdhury, Programme Officer, Supply Chain, Solidaridad Network Asia, Habibul Islam Tutul, Zonal Area Manager, Mahmudul Hasan, Manager, Retail Operations, Agora Limited, Farzana Begum, Manager, Commercial (Food Category), Abu Arafat, Marketing Manager, Agora Limited were also present in the inauguration ceremony.

Agora will be the distributor of SaFaL Mithai Ghar's Khejurer Gur.