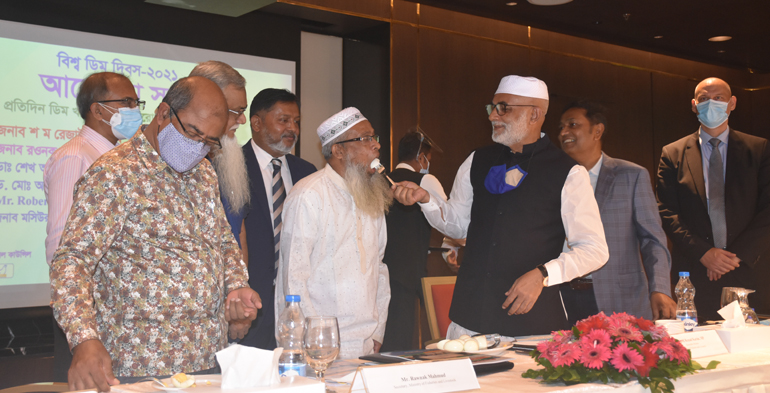 Agrilife24.com:World Egg Day was established in Vienna in 1996 and has since encouraged egg fans worldwide to think up new and creative ways to "honour this incredible nutrient powerhouse", says the International Egg Commission. World Egg Day-2021 has celebrated worldwide. Some celebrations include:
-Brazil: A week of activities will include donations of thousands of eggs, activity books and World Egg Day T-shirts to regional charities.
-Bangladesh:Department of Livestock, Food and Agriculture Organization of the United Nations (FAO), World Poultry Science Association-Bangladesh Branch and Bangladesh Poultry Industries Central Council (BPICC) jointly organized the event, with the theme "Eat Your Egg Today and Every Day".
-Canada: Egg Farmers of Canada are launching media and social media campaigns with 5 chef ambassadors and culinary influencers who will encourage Canadians to take their taste buds on a journey while showcasing several new globally-inspired egg recipes.
-China: A Food Creative Contest is being planned held in conjunction with a science and technology conference.
-Croatia: A theatre festival for children has been arranged, entitled 'The Egg'.
-Hungary: A conference for producers will feature speaker Nan-Dirk Mulder of Rabobank, and a multimedia campaign aims to promote egg consumption.
-Kenya: The Hatching Hope Kenya Project, an initiative founded by Cargill and Heifer International, will host an event at a local school and will include a nutrition talk about the health benefits of eggs, a mentorship talk, and presentation of poems that the school children have been preparing to commemorate this day.
-Latvia: Balticovo's egg-branded food truck will distribute scrambled eggs to local residents, offering a variety of egg dishes, including the company's egg white protein ice-cream.
-Mexico: A webinar will host expert speakers from across the country.
-New Zealand: NZ Egg Producers Federation are running a consumer promotion where participants could win a Kenwood Gold Mixer or 1 of 25 The Perfect Egg Cookbooks.
-Nigeria: The Poultry Association of Nigeria Ogun State (PANOG) will be generating awareness about the many health benefits of eggs, visiting schools, health centres, orphanages, correctional centres and media houses to spread the word about the importance of eggs to wellbeing and overall health.
-Pakistan: The PMAS Arid Agriculture University will host a range of competitions, including best egg dish, best egg carving and painting, and best egg-related poster.
-Russia: Poultry of Russia 2021 will be held. The programme will include tasting of finished products like smoked and pickled eggs, a competition for making salads from boiled eggs, a soft-boiled eggs competition, songs about eggs, and the presentation of diplomas for the top 10 producers.
-Spain: Spain will extend celebrations to World Egg Month and will focus on the benefits of the egg for eye health. The winner of the yearly award in egg research will also be announced.
-UK: World Egg Day will be held alongside British Egg Week when people will be sharing their favourite ways to enjoy eggs.