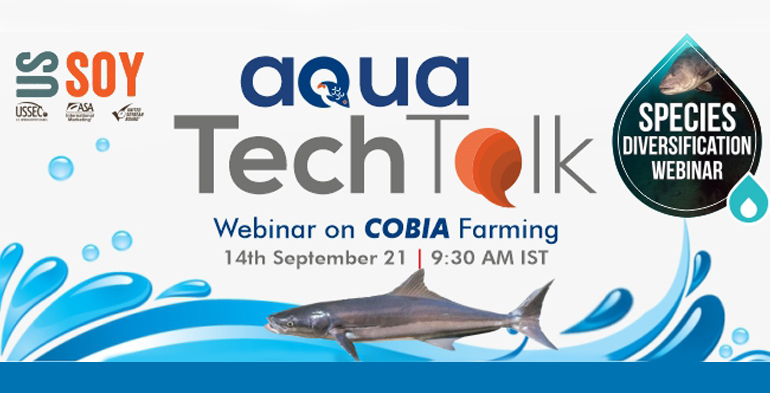 Agrilife24.com:With an intention to introduce advanced & apt technologies to the regional aquaculture industry, "USSEC's AQUA TECH TALK" program was introduced. Species Diversification Webinar Series was designed with an intention to introduce new culture species to the region. Introduction of a new species into the culture system requires a comprehensive approach. Careful assortment of subject matter experts was done by USSEC to deliver complete & quality information on the selected topics.
Topic for the current Webinar scheduled for 14th September 2021 will be exclusively on Cobia. USSEC eminent speakers are going to share with us their knowledge on the technical aspects of Cobia hatchery, farming, and pathology. Along with the technical aspects, key industry stakeholder will share his perspective on Species diversification.

Event Dates: 14th September 202, Time (IST): 09:30 AM to 11:30 AM
Technical Topics handled by: Mr. Lin Chin Chiu (Alex Lin); Thetis Corporation, Taiwan; Cobia - Brood stock and hatchery Management
Technical Topics handled by: Mr. Hsiang Pin LAN; Asia Marine Aquaculture Specialist; USSEC; Cobia Pre-Grow out & Grow out Management
Technical Topics handled by: Prof Andy p Shinn, PhD, senior scientist, benchmark r& d (Thailand) Asia ltd; Cobia - disease & health management
Topic handled by: Mr. Murali Anand Varma – Director, Ananda Group; Species Diversification – An Inevitable bumpy ride towards sustainable Future.
Click HERE for registration.