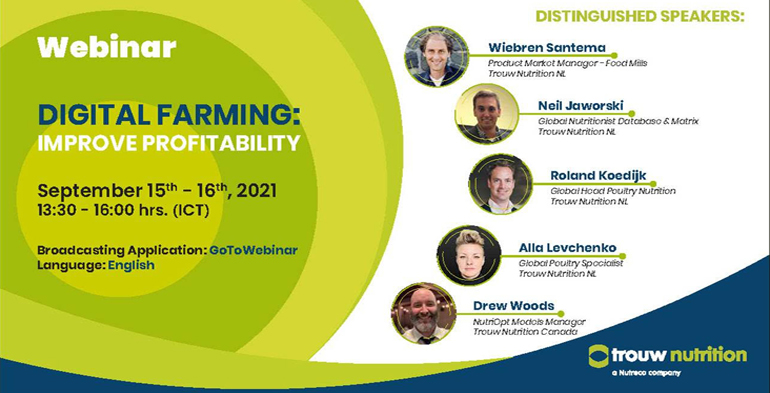 Agrilife24.com:The agricultural business is changing. Companies are increasingly growing and professionalising, while seeing a growing demand in their markets for sustainability, welfare and transparency. Success in this environment is defined by being innovative, future-minded and responsive to market changes. Trouw Nutrition  believes farmers need better solutions and services to run a successful business. From actionable analysis and insights to feeding strategies and state-of-the-art modelling for optimal animal performance and business success.
In this context Trouw Nutrition Asia Pacific cordially requested to join "Digital Farming: Improve Profitability" on Wednesday 15th September & Thursday 16th September 2021;1:30 pm-4:00 pm (ICT). During this 2-days event, Trouw Nutrition Asia Pacific plan to air 2 presentations per day focused on:
[Day 1, Wednesday, September 15th, 2021] : Challenges on raw material price
• Actionable raw material and nutritional insight
• Sustainable and profitable precision nutrition
[Day 2, Thursday, September 16th, 2021] : Monogastric animal nutrition and modelling
• Optimizing cost and production resources in feed production
• Modelling of Monogastric Nutrition: Taking the guesswork out of your decision making
Click HERE for Registration

Speakers:
Wiebren Santema DVM PhD, Product Market Manager-Feed Mills of Trouw Nutrition
Santema used to work as Veterinary researcher: Vaccine development for ruminant diseases (paratuberculosis, mastitis) and diagnostic tool development for infectious diseases in ruminants. Also be Veterinary consultant: On form consultancy for improving animal production and digital platform development for monitoring and benchmarking on farm animal performance. Till now, he's working at Trouw Nutrition as Product Market Manager-Feed Mills: Develop easy-to-use digital tools for our customers to make data-driven decisions.
Neil Jaworski, Global Nutritionist Database & Matrix of Trouw Nutrition
Neil joined TN R&D as ingredient researcher 5 years ago after finishing my PhD in swine nutrition advised by Dr. Hans Stein at Univ. of Illinois. Currently, I am the global nutritionist managing our nutritional database and matrix within the global nutrition and formulations team in TN Innovation. I am based in the Netherlands and originally from USA
Roland Koedijk, PhD; Global head of poultry nutrition of Trouw Nutrition
Roland got Ph.D degree in Developmental Biology and Biotechnology from University of Bergen, Norway with 15 years' experience in the global poultry industry with emphasize on nutrition. He also graduate from Wageningen University, the Netherlands - M.Sc Animal Science. He worked with Provimi/Cargill as Technical service manager for Asia-Pacific, the Middle East, Africa and Europe. Then moved to Cargill as Global technology leader poultry. After he has moved to Nutreco as Global technical & commercial solutions manager poultry. Till now his current position is Global head of poultry nutrition.
Alla Levchenko, Global Poultry Specialist of Trouw Nutrition
Alla born in Ukraine, a British citizen and, as briefly mentioned, I live in the Netherlands. Her education background is in animal science started in Ukraine and continued in Scotland. She have been for about 16 years in the poultry feed industry including broiler integration in the UK, premix business in the Netherlands, leading projects and supporting customers in several countries around the world.
Drew Woods, NutriOpt Models Manager of Trouw Nutrition
Drew earned my BSc. Animal Science and MSc. Animal Nutrition, studying under Dr. Kees DeLange from University of Guelph. He have worked in the swine industry for 14 years, 2 with Cargill Animal Nutrition and 12 with Trouw Nutrition.  He started as a Sr. Nutritionist in Canada and evolved over time to being responsible for models support across Canada and the Americas.  This year he was fortunate to join the Global Team in the role of NutriOpt Models Manager, overseeing the training and support of models within Trouw Nutrition.