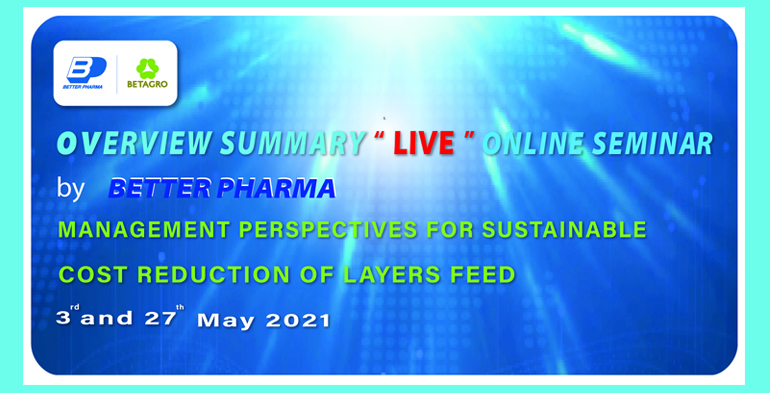 "MANAGEMENT PERSPECTIVES FOR SUSTAINABLE COST REDUCTION OF LAYERS FEED" 3 RD AND 27TH MAY 2021
Agrilife24.com: BETTER PHARMA (International Animal Health Business) together with Assoc. Prof. Yuwares Ruangpanit (Ph.D.) recently, an online seminar was held to suit the situation in the very important topic "Management Perspectives for Sustainable Cost Reduction of Layers feed". There are interested parties who attended both times, including at least 4 countries, Bangladesh, Vietnam, the Philippines and Indonesia, and most of the participants were nutritionists. In this 2 times seminar, participants were given the speaker's perspective, which can be summarized in a holistic way as follows: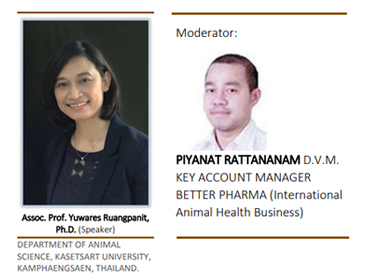 CHALLENGES OF POULTRY FEED INDUSTRY
For some of the important reasons for the impact come from, for example, insufficient and price fluctuation of feed raw materials i.e., soybean meal and corn, Increasing demand of bio-fuels and ethanol, Climate change and other (World Economics, Local Politics & Social Impact, Outbreaks, Oil Price, Etc.).
STRATEGY FOR SUSTAINING LAYER FEED COST
Good practice to ensure feed ingredient quality.
Physical – High price high risk of contamination for example, Soybean meal – urea, Rice bran, Cassava meal with sand or CaCO3.
Chemical composition for example, Proximate, AA, d AA, Wet-Chem or NIR.
Biological for example, Mycotoxins, Bacterial toxin, AME (NIR).
Incorporate more feed ingredient that has reasonable price.
Potential energy feed ingredients-Cassava, Wheat, Barley, Rice bran, Extract rice bran, Glycerol, Canola, Palm kernel meal, DDGS, Vermicelli waste.
The things to keep in mind is to know for example, the important to be aware, the chemical & nutrient composition, the chemical & biological residue, the texture & density, the color & pigmentation, the anti-nutritional, the inclusion & limitations, the digestibility &utilization and the other effects of using.
Better feed formulation strategy.
Low protein diet, constant dAA.
dAA:ME ratio appropriate, separated by the age of laying eggs (wk).

Use feed enzyme with the right substrate in feed.
The advantage of feed enzyme that can increase formulation flexibility, remove constrain, reduce feed cost, reduce variation of nutrient supply, eliminate anti-nutritional factor, improve low density diet utilization to support growth performance (normal/heat stress), reduce undigested feed, improve gut morphology & gut health, promote symbiotic cecal microflora and control bacteria in lower gut.
Phytase
NSP degrading enzyme
Protease
Using large particle size to reduce feed production cost and improve gizzard function.
Gizzard-Macro structure "Pace-setter" of Gut motility.
Pristine feed stimulates gizzard action - Normalizes feed passage rate, more complete peptic digestion.
SOME OF THE INFORMATION UNDIGESTED PROTEIN IN SOME SELECTED FEED INGREDIENT

 
CONCLUSIONS IN SUSTAINABLE LAYER FEED COST REDUCTION
The demand for fed ingredient will continue to increase.
Major feed ingredient price is fluctuated.
Learn to efficiently use of feed resource is very important
Getting familiar with alternative raw materials at high inclusion rate.
Maximize the value of feed ingredient by
o Formulate base on dAA.
o Use low protein concept.
o Use feed enzyme.
ACKNOWLEDGMENT
DEPARTMENT OF ANIMAL SCIENCE, KASETSART UNIVERSITY, KAMPHAENGSAEN, THAILAND.
FACULTY OF VETERINARY MEDICINE, KASETSART UNIVERSITY, KAMPHAENGSAEN, THAILAND.
FOR MORE INFORMATIONS PLEASE CONTACT; via our Global email, Facebook and BETTER PHARMA employees of each country at any time. This email address is being protected from spambots. You need JavaScript enabled to view it.