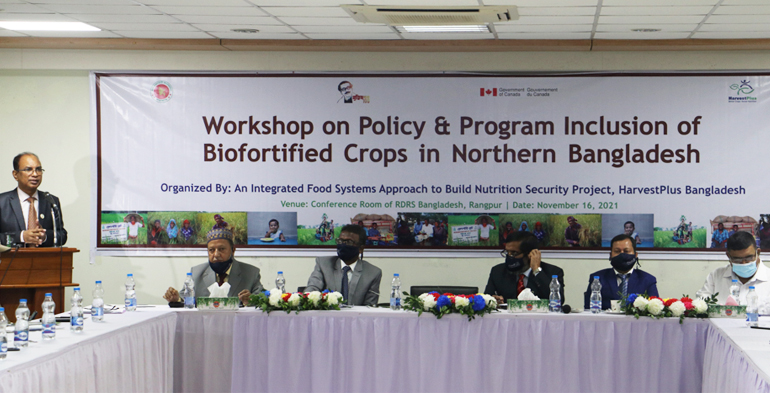 Agrilife24.com:An Integrated Food System Approach to Build Nutrition Security Project of HarvestPlus Bangladesh organized a workshop funded by Government of Canada (GOC) on Policy and Program Inclusion of Biofortified Crops in Northern Bangladesh. The workshop was held at RDRS conference room in Rangpur today on November 16, 2021.
The workshop was delighted by the presence of Md. Abdul Wahhab Bhuiyan, Divisional Commissioner, Rangpur Division, Rangpur. Md. Zakir Hossain, Additional Divisional Commissioner, Rangpur Division, Rangpur and Md. Shah Alam, Additional Director (Acting), Department of Agriculture Extension, Dinajpur Region, Dinajpur were present as special guest. Dr. Md Khairul Bashar, Country Manager, HarvestPlus Bangladesh present as guest of honor. Mr. Md. Tauhidul Ikbal, Additional Director, Department of Agriculture Extension, Rangpur Region, presided the workshop. More than 40 higher officials of different departments from diverse background, journalists of print and electronic media and officials of HarvestPlus Bangladesh and project implementing partners NGOs RDRS, NAZIR and TMSS were present in the workshop.

HarvestPlus improves nutrition and public health by developing and promoting biofortified food crops that are rich in vitamins and minerals and providing global leadership on biofortification evidence and technology. HarvestPlus is part of the CGIAR Research Program on Agriculture for Nutrition and Health (A4NH) and is based at the International Food Policy Research Institute (IFPRI). The Integrated Food Systems Approach to Build Nutrition Security Project of HarvestPlus aimed to improve food and nutrition security while safeguarding livelihoods to help prevent an emerging food and nutrition crises brought about by Covid-19 by increasing access to affordability of  biofortified seed, access to markets for smallholder farmers and SMEs along value chains and strengthening the capacity and economic returns to SMEs, prioritizing women's access to finance.

Project Coordinator of HarvestPlus Bangladesh, Kbd. Md. Mozibar Rahman presented about Biofortification: A sustainable way to build nutrition security. He added, the Canadian Government funded project targeted to reach 405,067 households with biofortified zinc rice seed and grain specially BRRI dhan74 and BRRI dhan84 and total 2,025,333 (50% women) people of Rangpur division will be benefited during the project period January 2021-June 2022 in Bangladesh and 7.8 million people globally.  Meanwhile, eight rice millers of Rangpur division milled and marketed 1,970 MT branded zinc rice of BRRI dhan74 and BRRI dhan84. The project is going to facilitate to sell seeds of 400 MT zinc rice BRRI dhan74 and BRRI dhan84 by the seed companies in the Rangpur division.

Deputy Country Manager, Dr. M A Saleque, welcome the guests in the workshop.

Dr. Md. Khairul Bashar, Country Manager, HarvestPlus Bangladesh said that zinc deficiency causes stunting, lowers immunity, and increases the risk of diarrheal disease and respiratory infections. Thirty-six percent of children under the age of five in Bangladesh suffers from inadequate zinc in their diets and annually Bangladesh loses over US$700* million in GDP to vitamin and mineral deficiencies. He also added one in three people globally suffer from hidden hunger, and women and children are especially vulnerable. The biofortified crops facilitated by HarvestPlus are developed through conventional plant breeding methods, thus biofortified crops in Bangladesh are not genetically modified. Bangladesh Rice Research Institute (BRRI) developed biofortified zinc rice variety BRRI dhan62 first globally. Now we have nine varieties of zinc rice. Through all-out efforts, HarvestPlus is trying to engage local, regional, and central level policy makers with the biofortified program activities through different events and one to one communication. Biofortification is included in several policies documents and HarvestPlus Bangladesh is working with the NARS system to develop more biofortified crop varieties suitable to grow even in the toughest geographical areas of the country with most desirable farmer and consumer traits. Up to June 2021 HarvestPlus Bangladesh reached 2.7M households with zinc rice in 65 sub-districts (upazila) of 29 districts in all 8 divisions.

More than 514,884 people learnt about biofortified crops through farmers' field days, courtyard meetings, school sensitization programs, etc. Around 25,013 people developed skills through training and exchange visits. More than 3000, MT zinc rice seed produced by Bangladesh Agricultural Development Corporation (BADC) and private seed companies in 2021, which is 1.9% of the national total.

To boost and root biofortified crop adoption among producers and consumers mainstreaming of Biofortification is needed in crop development, seed multiplication and delivery food crops with public and private sectors. Inclusion of biofortified rice in social safety net programs will also create another market for this specialized crop.  

Chief guest Md. Abdul Wahhab Bhuiyan, Divisional Commissioner, Rangpur Division, Rangpur said that if HarvestPlus have biofortification certification, we have to give emphasis on dissemination program, is required. If BRRI has the certification then. Govt take initiative to disseminate. If we can find out the challenges and find out the way forward.

Chairman of the workshop Md. Tauhidul Ikbal, Additional Director, Department of Agriculture Extension, Rangpur Region, Rangpur emphasized on extension of zinc rice in Rangpur division. He also suggested to work with food department closely to mainstream zinc rice in govt procurement plan. He believes that zinc rice can contribute to reduce zinc deficiency in malnourished population.