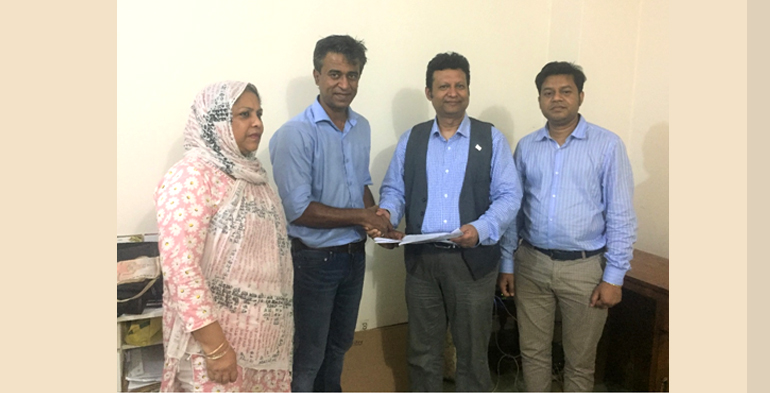 agrilife24.com desk:On 18 June 2019 Land O'Lakes International Development signed an MoU with Parmeeda Enterprise. As per the MoU Land O'Lakes International Development will mobilize volunteers to provide specialized technical assistances to increase agro-food processing quality, profitability and to enhance application of food safety practices and systems and Parmeeda Enterprise will adopt the volunteer recommendations accordingly.
Mr. Md. Maksudur Rahman, Country Director, on behalf of Land O'Lakes International Development and Mr. Abu Darda, Executive Director, on behalf of Parmeeda Enterprise signed the MoU.

Land O'Lakes International Development, being funded by USAID, is implementing Farmer to Farmer Food Safety and Quality (F2F FSQ) program to address the important issues of food safety and quality with highly qualified volunteers. Volunteers assist and train others on good agricultural and manufacturing practices to improve the local food safety protocols and quality assurance systems from "field to fork." To overcome arising food safety problems, the Bangladesh F2F FSQ country project is leveraging Global Food Safety Initiative (GFSI)- Global Markets Program as a tool to our implementation. GFSI work with food industry key players to attain continuous improvement in food safety management systems around the globe.

Parmeeda Enterprise has been registered with Joint Stock Company in the year of 2017 with a goal to be the largest safe food provider in Bangladesh and eventually market to other countries applicable with standardized and certified perishables as a whole or processed. Parmeeda is a for profit private organization selling safe agricultural commodities especially food including vegetables, local fruits (Mango, lichi, papaya, banana, pineapple, guava, etc), fish, brown rice, brown flour, cooking oil, etc, maintaining supply chain directly linked with producers in different parts of the growing regions in Bangladesh.